Towards smoke-free campus
Total ban of smoking from 1st Jan. 2020.
Click here for details.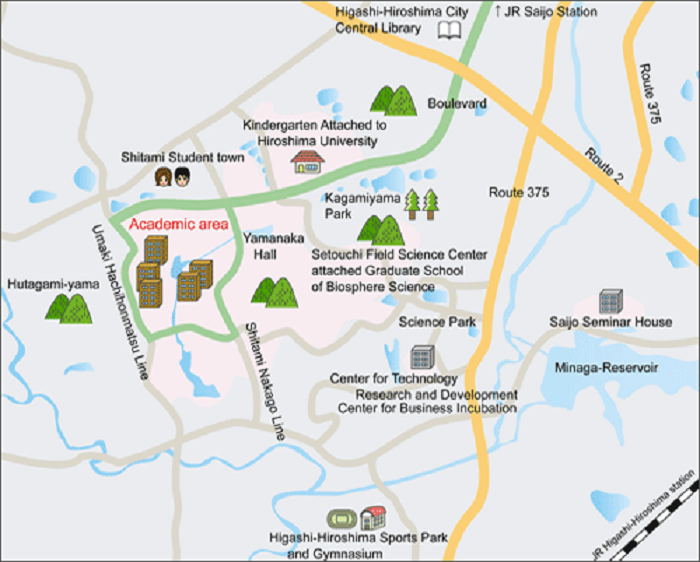 Bus stop"Hirodai-chuoguchi","Yamanaka-ike"area
-Graduate School of Advanced Sciences of Matter
-School of Science
-Graduate School of Science
-Graduate School of Integrated Sciences for Life
-Administration Bureau
---Office of Funding (Fund/Alumni Association)
---Office of Admissions
---International Center
---Department of Industry-Government and Community Collaboration
---Department of Intellectual Property
-Natural Science Center for Basic Research and Development
---Research and Development Division (Department of Advanced Materials, Department of Materials Science)
---Integrated Experimental Support/Research Division (Department of Low temperature Experiment)
-Hiroshima Astrophysical Science Center
-HiSIM Research Center
-Amphibian Research Center
Bus stop"Hirodai-chuoguchi"area
-Post Office
-Dental Clinic
-School of Economics
-School of Law
-Graduate School of Social Sciences
-School of Letters
-Graduate School of Letters
-Central Library
--Writing Center
--Information Media Center(North Branch)
-Research Institute for Higher Education
-Satake Memorial Hall
-Faculty Club
-Mermaid Cafe(Hiroshima University Branch)
-Komaru Nigiwai Pavillion
Bus stop"Hirodai-kitaguchi","Hirodai-Futagamiguchi"area
-School of Education
-Graduate School of Education
-International Center
-Center for contemporary India Studies
-Technical Center
-Collaboration Office
-Institute for Sport Sciences
-Hiroshima University Archives
-Hiroshima University Museum
-Archaeological Research Center
-Health Sarvice Center(Medical)
-North Gymnasium
Bus stop"Hirodai-nishiguchi"area
-School of Integrated Arts and Sciences
-Graduate School of Intergrated Arts and Sciences
-Graduate School of Integrated Sciences for Life
-Student Plaza
---Health Service Center(Mental Health Counseling)
---Global Career Design Center
---Accessibility Center
---Peer Support Room
---International Center
-West Library
-Information Media Center(West Branch)
-Learning Support Office
-Institute for Foreign Language Research and Education
-West Gymnasium
-Spanish Plaza
Bus stop"Daigakukaikanmae"area
-Graduate School for International Development and Cooperation
-Center for the Study of International Cooperation in Education
-TAOYAKA Program Office
-University Hall
-East Library
-Facilities for Extracurricular
-Athletic Field,Baseball Field,Outdoor Swimming Pool...
Bus stop"Gagaraguchi","Daigakukaikanmae"area
-School of Applied Biological Science
-Graduate School of Integrated Sciences for Life
-International House
-Environmental Research and Management Center
-East Gymnasium
Bus stop"Hirodai-higashiguchi"area
-School of Engineering
-Graduate School of Engineering
-School of Informatics and Data Science
-Resilience Research Center
-Information Media Center(Main Building)
-Research Institute for Nanodevice and Bio Systems
-Synchrotron Radiation Center
-Venture Business Laboratory Office
-Natural Science Center for Basic Research and Development
---Integrated Experimental Support/Research Division (Department of Radioisotope Science and Safety, Department of Gene Science, Department of Animal Experiment)