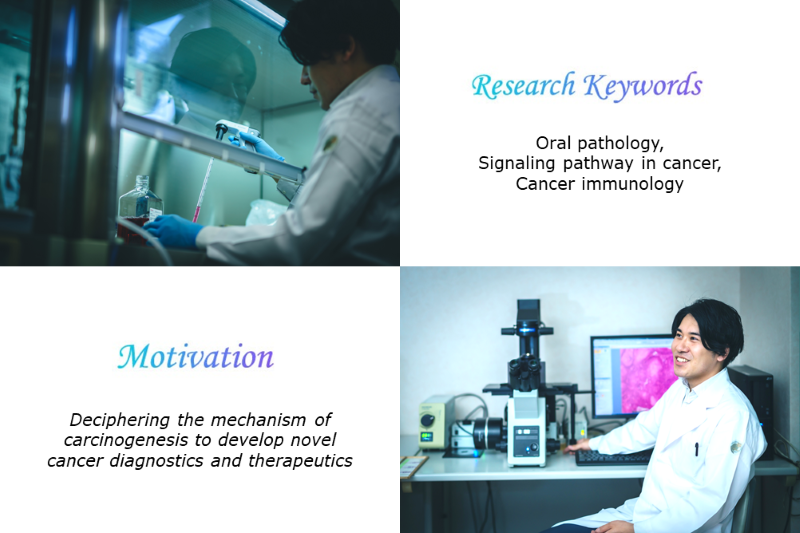 Ando T, et al., "EGFR Regulates the Hippo Pathway by promoting the tyrosine phosphorylation of MOB1", Communications Biology, 4(1), 1237 (2021). DOI

Ando T, Charindra D, Shrestha M, Umehara H, Ogawa I, Miyauchi M, Takata T, "Tissue inhibitor of metalloproteinase-1 promotes cell proliferation through YAP/TAZ activation in cancer", Oncogene, 37(2), 263-270 (2018). DOI

Ando T, et al., "Ameloblastin induces tumor suppressive phenotype and enhances chemosensitivity to doxorubicin via Src-Stat3 inactivation in osteosarcoma", Scientific Reports, 7, 40187 (2017). DOI
To view a more comprehensive list of publications, please click on the "researchmap" link below.
Born in Aichi, Dr. Ando graduated from the School of Dentistry at Hiroshima University in 2010, and after completing his dental residency, he acquired a doctoral degree from the Graduate School of Dentistry at the same university. Having initially taken up the position of Assistant Professor at Hiroshima University in 2015, he went to the U.S. to study at the University of California San Diego from 2017 to 2020. He then took up the position of Dentist at the Center for Oral Clinical Examination at Hiroshima University in April 2020, and moved to his current post in October 2020.
Since cancer genomics medicine started in 2019, customized cancer treatment tailored to gene abnormalities is increasingly becoming possible. Dr. Ando has taken particular note of the Hippo pathway, which is one of the signal pathways, to unravel the mechanisms that cause cancer and immune evasion. In his past research, Dr. Ando emphasized his focus on the relationship between gene abnormality and Hippo pathway, but in his new research he is focusing on the Hippo pathway's influence on immune cells affected by gene abnormality. He is planning collaborations with corporations and starting his own business while also considering making contributions in the form of drug discovery. He is highly motivated by his passion to develop and foster his research results.