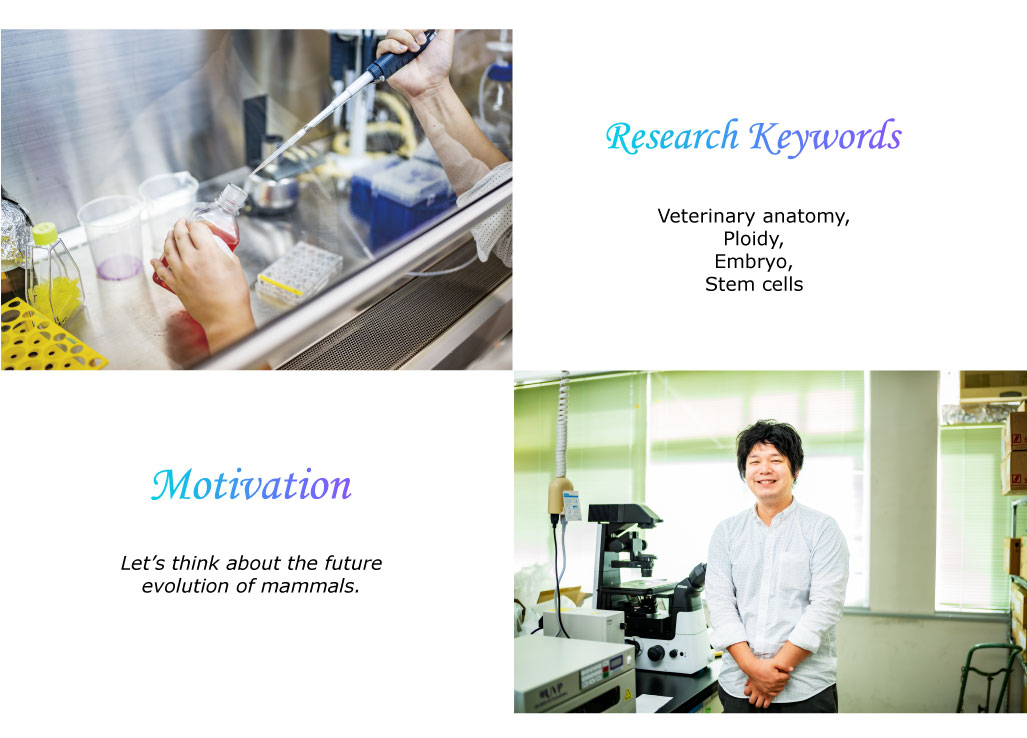 Imai Hiroyuki, Kusakabe Ken Takeshi, Kiso Yasuo, Hattori Shosaku, Kai Chieko, Ono Etsuro, Kano Kiyoshi, "Induction of pluripotency in mammalian fibroblasts by cell fusion with mouse embryonic stem cells", Biochemical and Biophysical Research Communications, 521(1), 24-30 (2020). DOI

Imai Hiroyuki, Fujii Wataru, Kusakabe Ken Takeshi, Kiso Yasuo, Kano Kiyoshi, "Aggregation recovers developmental plasticity in mouse polyploid embryos", Reproduction, Fertility and Development, 31(2), 404-411 (2018). DOI

Imai Hiroyuki, Kano Kiyoshi, Fujii Wataru, Takasawa Ken, Wakitani Shoichi, Hiyama Masato, Nishino Koichiro, Kusakabe Ken Takeshi, Kiso Yasuo, "Tetraploid Embryonic Stem Cells Maintain Pluripotency and Differentiation Potency into Three Germ Layers", PLOS ONE, 10(6), e0130585 (2015). DOI
To view a more comprehensive list of publications, please click on the "researchmap" link below.
Born in Yamaguchi, Dr. Imai, while studying at the United Graduate School of Veterinary Science at Yamaguchi University, was employed by the Japan Society for the Promotion of Science as a special researcher, and subsequently completed a graduate course in 2018. He took up the position of Assistant Professor at the Faculty of Medical Sciences at Kyushu University in 2018, and thereafter, rejoined Yamaguchi University in 2020, as Assistant Professor at the Joint Faculty of Veterinary Medicine. Having originally come across the research theme of embryology, as an undergraduate, Dr. Imai had been attracted by the beauty of a fertilized egg in a veterinary embryology textbook, which was the beginning of a great interest in the origin of life for him.
Since analysis on the Human Genome Project was completed in 2003, genome research has been moving on to the next stage of research and this has influenced many fields in biology. Assistant Professor Imai, whose chosen research theme is the embryology of organisms, focuses on polyploids which has a close relationship with the history of life evolution. It is said that polyploids generated through natural whole genome duplication, have shown dynamic strength in the evolution of vertebrates and, in actual fact, polyploid organisms exist ordinarily in the natural world as proof of evolution. However, this phenomenon is limited to organisms which are not mammals. Therefore, Dr. Imai is currently searching for the mechanism that explains why polyploids do not exist in mammals by screening abnormalities in the developmental process using artificial stem cells.