For Mutual Development of Community and University
The Community Cooperation Division of Hiroshima University acts as an interface between Hiroshima University and the community, not only in education and research but also in various fields of collaboration. The objective of our activities is "to build a new partnership between the University and the community." To this end, we are promoting various activities to connect the University and the community and create new values, based on the four keywords: "open," "connect," "collaborate" and "create."
Keyword
Mission
Concrete Action
Open
Act as a one-stop consultation window of Hiroshima University, aiming to be an "open university," and "open" the University's human resources and intellectual resources to the community.
・ Technical consultation
・ Campus guide
・ Public relations activities
Connect
Promote education and research that contribute to the community by connecting the various needs of the community with the University's human resources and research seeds.
・ Community cooperation promotion projects
Collaborate
Serve as a coordinator to apply the University's research results in specific fields of the community for implementation and promote a synergistic relationship with the community.
・ Coordination of cooperation projects with external organizations
・ Collaboration agreement with local governments
・ Satellite Office activities
Create
Create a new era of cooperation between Hiroshima University and the community through various collaboration practices, information exchange and interaction with other local communities.
・ Investigation/research regarding university and community cooperation
・ Theory construction and educational activity regarding the University's community cooperation
Keyword: "Open"
As a one-stop consultation window of Hiroshima University, which aims to be an "Open University," the Community Cooperation Division sends out information on the University's diverse human and intellectual resources and activities to the community, and carries out technical consultations, campus guided tours, and public relation activities to facilitate access to the University.
Technical Consultations
As an integrated one-stop consultation window of Hiroshima University, we offer advice and information on a wide range of matters, including introductions to researchers, and collaborative research.
Campus Guide
As part of the community cooperation activity of Hiroshima University, guided tours are conducted by student guides in collaboration with the Hiroshima University Museum.
Anyone can join a regular guided tour of the University, conducted from 1:00 p.m. every Friday (no reservation required).
We also provide guides to Open Campus events and the University Festival, as well as guides for groups, special seasonal tours, the satellite museum of Hiroshima University Museum, and tours of the nature observation route "Hakken no Komichi" (Pathway to Discovery).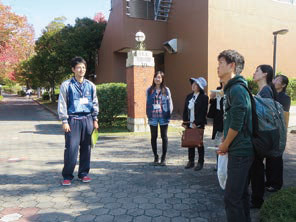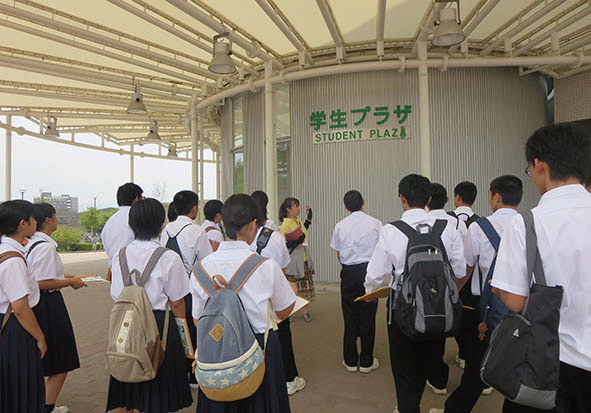 Keyword: "Connect"
Hiroshima University Community Cooperation Promotion Project
We aim to contribute to finding solutions to various problems faced by the community and revitalizing the community by utilizing the knowledge and technology of Hiroshima University, faculty members and students. In AY2011, this project replaced the Hiroshima University Local Community Contribution Research* launched in 2002.
Under the new project, two types of cooperation systems were established to tackle a wide variety of challenges in cooperation with the community: "Research Cooperation" (Type A), a project that requires specialized research and technology development, and "Community Cooperation" (Type B), a project that involves Hiroshima University's faculty and other staff members as well as students. Between AY2002 and AY2015, we received a total of 443 requests from the community, and implemented 114 research projects.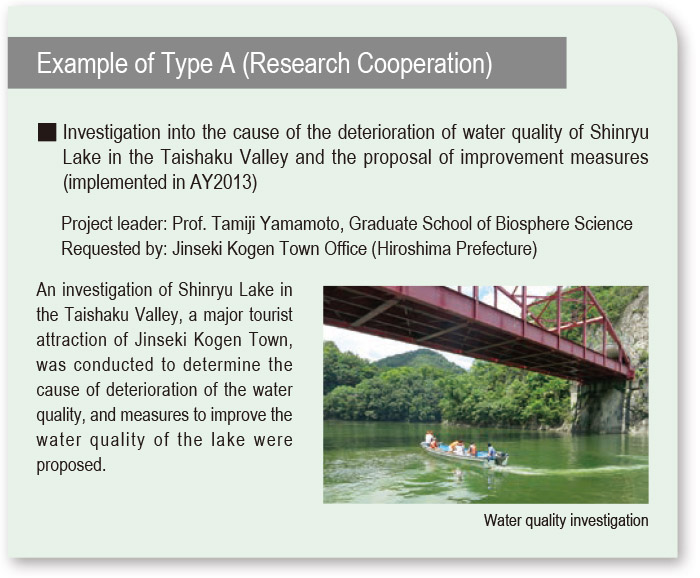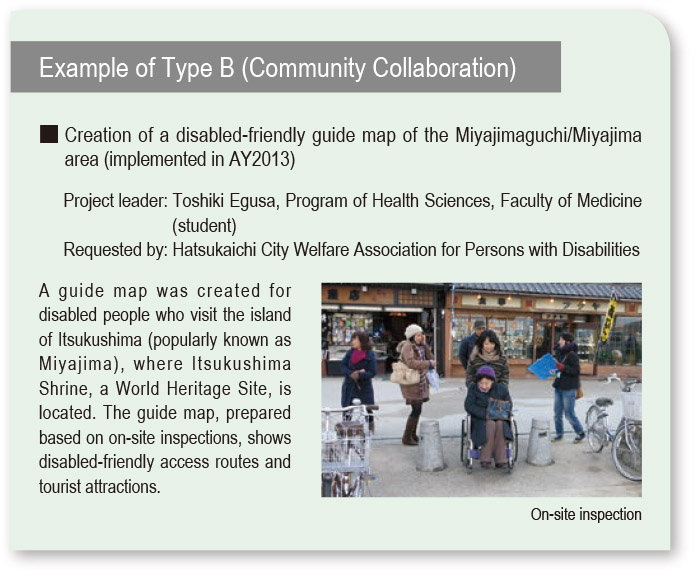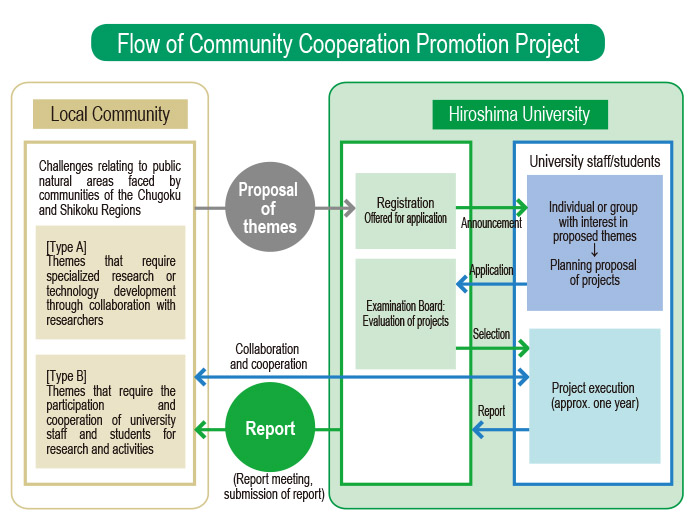 Keyword: "Collaborate"
Coordination of Community Cooperation Activity
In response to requests from outside the University, we coordinate various collaborative research projects with outside the University. We have yielded practical results by introducing local governments to our researchers. We also support community development projects involving students.
Cooperation Agreements with Local Governments
At present, we have concluded agreements with six local municipalities to promote collaborative projects.
| Partner Municipality | Date of Agreement |
| --- | --- |
| Kure City | Jan. 11, 2006 |
| Kita-Hiroshima Town | Nov. 21, 2006 |
| Miyoshi City | Oct. 11, 2007 |
| Higashi-Hiroshima City | May 27, 2008 |
| Sera Town | July 14, 2008 |
| Minami-Soma City | Aug. 30, 2013 |
Keyword: "Create"
Studies and Research for University-Community Cooperation
To reinforce our efforts to promote university-community cooperation, we carry out studies on other universities and communities with a successful history of collaboration, exchange information with relevant institutions, and participate in open lectures held in various local communities to collect information.
[Contact Person]
Community Cooperation Division
TEL: +81-82-424-6314 FAX: +81-82-424-6057
E-mail: ccc*hiroshima-u.ac.jp(Please replace * with@)