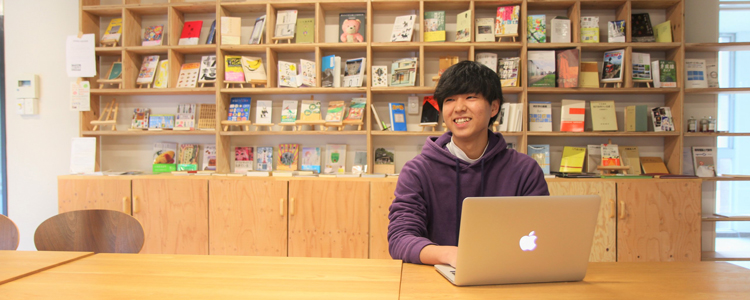 "HU Student Interview Series" gives our prospective students an insight into the perspectives of HU students. On the 40th interview in this series, we have interviewed Mr. Seiji Izakura who graduated from Kaichi High School in Wakayama Prefecture and is currently in the 3rd year of the Cluster 2 (Electrical, Electronic and System Engineering) at the School of Engineering. Mr. Izakura continues to challenge himself into many different fields to self-improve. He has also decided to study abroad in India, to search for and visualize what he wants to become in the future. We asked him about his entrance exam preparation and university life at HU.
High school days devoted to tennis. The campus rich in nature, was the deciding factor for choosing HU!
Until the summer of the 3rd year in high school, playing tennis was what I lived for. We actually won the team competition of the prefectural tournament. Although, we fell one step short of being qualified for the national tournament, we practiced very hard every day, and were able to produce good results. So, I am very satisfied with my high school club activity life. On the other hand, I wasn't really thinking about the entrance exam preparation, and I was unable to decide which university I should enroll after retiring from the club.
Meanwhile, I was attracted to the environmental aspects of HU. The HU campus which I saw on street view was full of nature, with cherry blossoms in full bloom during the spring and the beautiful fall foliage in autumn, and the changing scenery from season to season could be enjoyed. I chose HU because I thought that I would be able to live a campus life which was free from stress.
After actually enrolling in the university, I often walk along a hiking trail at the Higashi-Hiroshima campus which utilizes the large area because of the nice view and the refreshing sensation.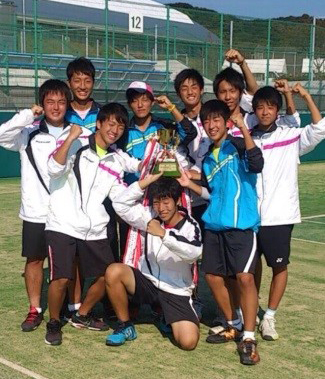 High school tennis club. Prefectural tournament champions!

It's fun to walk around a campus where you can enjoy the 4 seasons
In addition, I loved to touch the computer ever since I was a child. I still remember the excitement I felt when I used the computer for the first time in my life. Even in high school, I became interested in computing (electronic systems), and during lessons I frequently asked questions about the topic. I occasionally thought I want to learn the topic more deeply than the actual content of the lesson. When I checked the HU website, I thought that the Cluster 2 at the School of Engineering was best match for me, so I decided to aim for a place at the university.
Don't rush and steadily understand. Take the test using personal experience and prediction!
I started to prepare for the entrance examination seriously after retiring from the tennis club in the summer. When I first started the preparation, I thought that I just had to study and practice a lot, so I stayed in the study room at the private tutoring school for many hours, studying for the exam. However, the results did not follow, so I wondered why I wasn't able to achieve good grades, and I took this opportunity to look back at myself and reflect.
From my experience, every time I set a specific goal, I always feel that I must achieve the goal no matter what and I had a tendency to rush and panic. So, I decided to consider that the process is more important than the goal, and from then I gave my attention to 'the prediction of my future self'. It is absolutely fine to make a rough aim. Just remember to predict and visualize your future self and value the process. By doing so, I thought that the results will follow.
I applied this to the exam preparation thinking, "if I work this much today and understand this much concept, I'll be like this tomorrow." In this way, I valued the process, always visualizing and predicting what I should be like in the not so distant future. The results gradually came when I started to focus on understanding the essence without rushing, rather than studying a lot with half knowledges; this allowed me to make efforts in studying since I was able to create a room in my mind.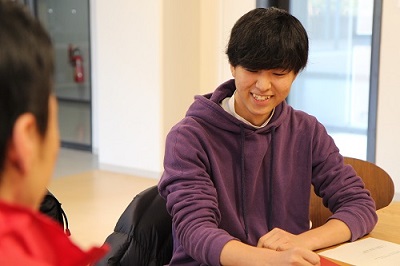 "Once I tried to understand every concept and moved forward, the process of studying became fun" says Mr. Izakura
I never had to sit up all night studying. I thought that working all night was an escape route for not studying during the day, so I had the option of staying up late eliminated from the beginning. By doing so, I was able to concentrate in my study during the day and at the same time, maintain a good daily rhythm.
Not only your specialized subject. Learn from a wide range of topics according to your interests
At HU, I am studying about computer programing, software and hardware. During an experiment, there are many situations where you have to think for yourself, and so it is necessary to have a solid understanding of the essence to move forward; the ways of thinking which I have gained during the exam preparation can still be utilized at university.
One of HU's charms is that it has many schools within the campus. This allows students to take classes that are outside their specialized field. After looking at the syllabus, I decided to take a specialized course offered at the School of Integrated Arts and Sciences called Seminar in English Pronunciation. Not only was the lesson fun, but the explanation given by the instructor, Yamane-Sensei (back then), was easy to understand, and I thought that every lesson, my pronunciation was improving.
Enjoy the everyday campus life!
When I was studying or working on the computer, there was a tendency for me to be alone. When I was in the first year, I didn't want to continue that kind of life for four years, and I decided to join a badminton club. There were people from many different schools, so I had the opportunity to hear about their daily life and study, and I made a lot of friends allowing me to create both vertical and horizontal relationships. Not only we do practice every week, but also, we have training camps and welcome parties for new students; we are very close, and I think it is a club that I can recommend with confidence.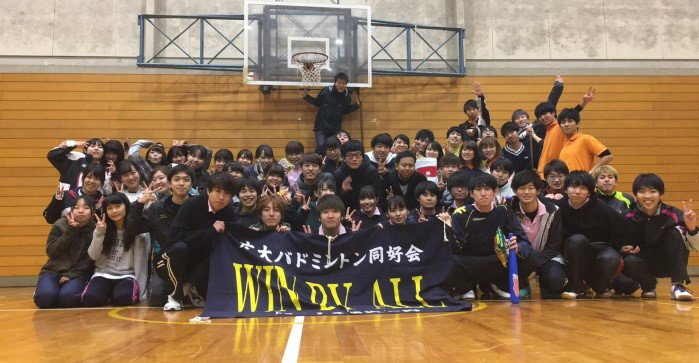 With the members of the badminton club
Another good point to mention about university is that the holidays are much longer than that of high school. In the summer of the 2nd year, I visited Canada for a month through a short-term study abroad program. Because I had already decided to go on a long-term study abroad at the end of the 3rd grade, I wanted to visit a foreign country beforehand and communicate with people from different countries. Although my time in Canada was short, it was very meaningful as I was able to meet many international students, share different values with them, and see the extraordinary landscapes. However, at the time when I decided to go to Canada, I didn't have much money saved in my bank account, so I had to put more effort into my part time job, which was very hard; but looking back, it is a good memory.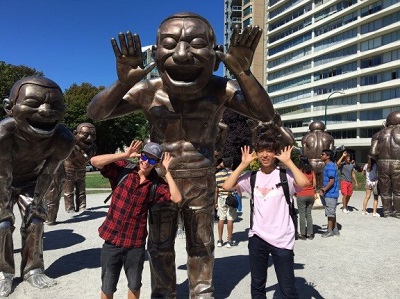 In front of a statue in Canada
Experience first! Visiting India to experience my dream job.
I am going to study abroad in India from March 2019 for half a year. My goal for the future is to work with a team that develops web services. However, as I said before, I believe it is important to 'predict your future self'. So, I thought experience will allow me to predict my future. Try it first, then predict yourself in the future, and finally consider the best path.
In India, I will enter a company that develops web services, form a team, and get paid while I work. Although the minimum wage is guaranteed, the income will depend on performance. From other's perspectives, it may look difficult because I am not going on a study abroad program offered by the university; I am taking a leave of absence to personally go to India. I was told by my seniors and friends that since Hiroshima University has a good study abroad system, it could be easier. But actually, I am not bothered much. Rather, I am looking forward to this trip. What will my future look like, and which path will I go? I think through this study abroad, I will be able to predict this. Having this mindset, I feel I can endure even the toughest of things.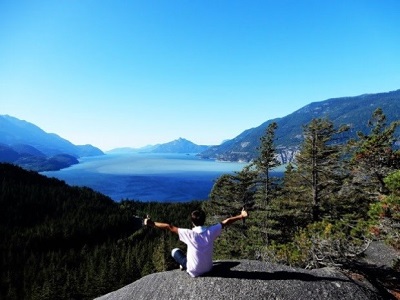 Canada's amazing landscapes and nature.
I am not afraid of going to India because of my study abroad experience in Canada!
A message to future Hiroshima University Students!
For all those aiming to enroll in Hiroshima University.
To achieve your big goal, please value and spend the limited time each day meaningfully. Rather than being impatient to achieve your aims, you can always predict what you want to be in the future, and if you make an effort to become this person you predict, the results will definitely come.
Take care of yourselves, stay healthy, and I hope you can enroll in Hiroshima University. Do your best! Future juniors!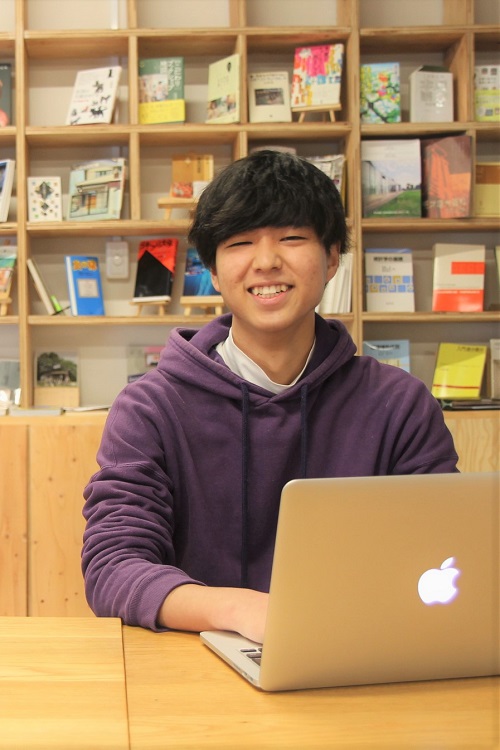 After the interview―Interviewer's Comments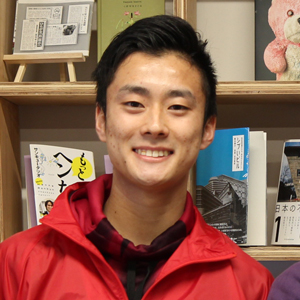 Mr. Izakura's ability to take challenges without hesitating, his goal planning processes, and values that form part of his mindset is inspiring. I want to make the most of my student life just like him!
HU Student Interview Series, Public Relations Student Staff
Yusuke Yamashita
Hiroshima University Law School, 3rd year student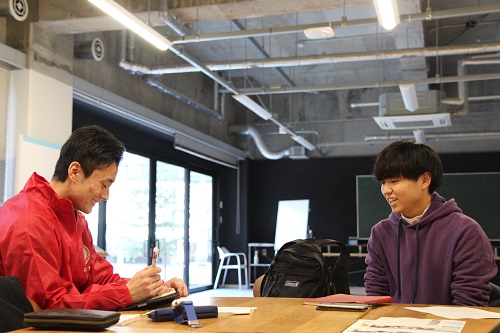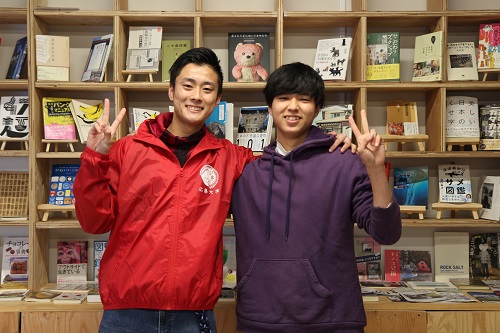 January 25, 2019
Photograph: Public Relations Group (Y)
Location: Omoshiro Lab., School of Engineering