TAOYAKA Program for creating a flexible, enduring, peaceful society will hold the 17th TAOYAKA Program Seminar.
Title: Professional Skills Useful for Fieldwork in Developing Nations and Strategies for Raising Funds to Support International Fieldwork
Date & Time: Tuesday, 22 July2014 16:20-17:50pm
Venue: Taoyaka Classroom(2F Daigaku Kaikan)
Speaker: Professor David J. Eaton (LBJ School of Public Affairs, The University of Texas at Austin)
The seminar will be held in English.
Download a flyer: PDF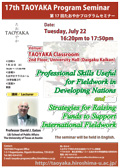 [About TAOYAKAProgram Seminar]
TAOYAKA Program frequently holds TAOYAKA Program Seminars with lecturers/speakers invited from universities within Japan and overseas, collaborative organizations and enterprises, etc.

The seminars provide opportunities to exchange information on multicultural-coexistence and to develop educational materials. Many of TAOYAKA Program Seminars are open to the public.

Please see TAOYAKA Program's website for information on upcoming TAOYAKA Program Seminars:

TAOYAKA Program Website



Contact:

TAOYAKA Program Office

1-5-1 Kagamiyama, Higashi-Hiroshima, 739-8529

Tel: 082-424-6152

E-mail:taoyaka-program[a]office.hiroshima-u.ac.jp

*please replace [a] with @.