TAOYAKA Program for creating a flexible, enduring, peaceful society will hold the 16th TAOYAKA Program Seminar.
Title: The Relevance of Folk Religion in Modern India
Date& Time: Wednesday, July 16, 2014 14:30-16:00pm
Venue: IDEC 405
Speaker: Professor Ruby Sain (Department of Sociology, Jadavpur University, Kolkata, India)
Abstract: Since July 1991 the Indian society has been restructured in psychological, social, economic, political, administrative and policyrelated issues but the importance of folk religion never declined as this was in the past. Rather resurgence of religion and folk religion is more important in the present context. In fact Folk Religion is transmitted bythe common people in any region, place or country from generation after generation and it has great impact upon the political, economic, and cultural development of particular region and continues to satisfy theemotional and religious needs of the people. The present researcher would like to highlight the sociological reasons of Indian scenarios.
The seminar will be held in English.
Download a flyer: PDF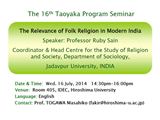 [About TAOYAKAProgram Seminar]
TAOYAKA Program frequently holds TAOYAKA Program Seminars with lecturers/speakers invited from universities within Japan and overseas, collaborative organizations and enterprises, etc.

The seminars provide opportunities to exchange information on multicultural-coexistence and to develop educational materials. Many of TAOYAKA Program Seminars are open to the public.

Please see TAOYAKA Program's website for information on upcoming TAOYAKA Program Seminars:

TAOYAKA Program Website
Contact:

TAOYAKA Program Office

1-5-1 Kagamiyama, Higashi-Hiroshima, 739-8529

Tel: 082-424-6152

E-mail:taoyaka-program[a]office.hiroshima-u.ac.jp

*please replace [a] with @.