TAOYAKA Program for creating a flexible, enduring, peaceful society will hold the 30th TAOYAKA Program Seminar.
Time and Date: 15:30~16:30, January 7, 2015



Venue: 103 Lecture Room, Faculty of Engineering, Hiroshima University



Lecturer: Professor Chen-Ching Liu, Washington State University (WSU: Boeing Distinguished Professor)



Title: Smart Distribution Systems: State-of-the-Art and the Future



Language: English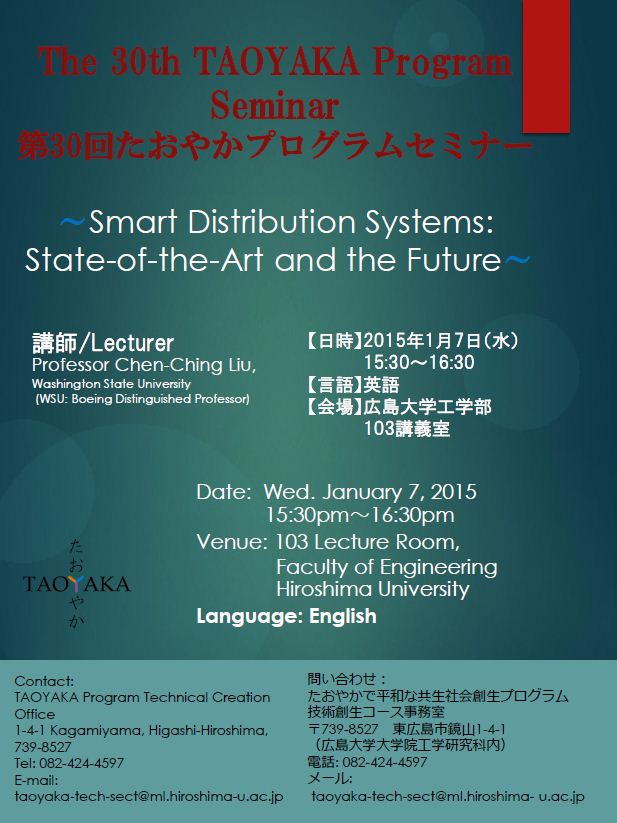 Download a fryer(233KB)
[About TAOYAKAProgram Seminar]

TAOYAKA Program frequently holds TAOYAKA Program Seminars with lecturers/speakers invited from universities within Japan and overseas, collaborative organizations and enterprises, etc.

The seminars provide opportunities to exchange information on multicultural-coexistence and to develop educational materials. Many of TAOYAKA Program Seminars are open to the public.
Please see TAOYAKA Program's website for information on upcoming TAOYAKA Program Seminars:

TAOYAKA Program Website
Contact:

TAOYAKA Program Technical Creation Office

1-4-1 Kagamiyama, Higashi-Hiroshima, 739-8527

Tel: 082-424-4597

E-mail: taoyaka-tech-sect[a]ml.hiroshima-u.ac.jp

*please replace [a] with @.