The School of Arts and Sciences of the University of San Carlos (USC) in Cebu City, Philippines became the latest academic and research partner of the Graduate School of Biosphere Science (GSBS) of Hiroshima University in the latter's continuing efforts to further expand its international research and academic network.
At a ceremony held on March 18, 2019 at the GSBS conference hall and attended by officials from both institutions, the Memorandum of Academic Exchange and the Agreement on Student Exchanges were signed. The visitors from the Philippines were led by Father Narciso A. Cellan, Jr., SVD, the Assistant Vice President for Academic Affairs at USC, Dr. Delia E. Belleza, the Dean of the USC School of Arts and Sciences, Dr. Rita May P. Tagalog, the Dean of the USC School of Education, Dr. Ricardo L. Fornis, the Assistant Dean of the USC School of Engineering and Dr. Paul John L. Geraldino, the chairperson of the Department of Biology at USC.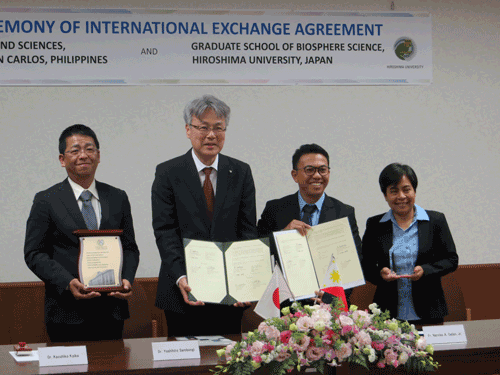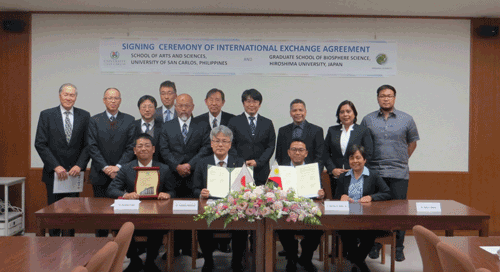 GSBS Dean Professor Yoshihiro Sambongi welcomed the delegation from USC during a courtesy call held at his office where initial discussions about plans for productive academic and research exchanges in the coming months. Vice Dean for International Affairs Professor Kazuhiko Koike, Vice Dean for Research Professor Yoichi Sakai, Vice Dean for Graduate Studies Professor Masaoki Tsudzuki and other academic and administrative staffs also came to witness the event. Aside from the signing of documents, the ceremony saw the giving of speeches and exchanging of commemorative gifts. The day was capped by a reception at a local restaurant.
The visit of the Philippine educators to Hiroshima University was also marked by a courtesy call on Vice President for International Affairs Professor Yasushi Maruyama with whom the Filipinos discussed about exchange visits and exploring wider university-level exchanges in the future. Later, courtesy calls and discussions with the deans of the Hiroshima University Schools of Engineering, Education and Integrated Arts and Sciences were also made and productive talks held to explore ways to forge academic tie-ups between these two key educational institutions in the future.
The links between the two institutions have started a few years ago even before the signing of a formal MOU. Students from USC have been hosted by laboratories and professors at the GSBS for conducting short-term research and training. Some GSBS professors have lectured at USC. Last year, twenty Japanese students visited USC as part of their overseas educational tour where they visited various research facilities on campus, observed classes all taught in English, interacted with local students for cultural exchanges and visit local food processing plants and cultural facilities. In September this year, another batch of Japanese students will be hosted by USC for another round of educational and cultural exchanges.
The University of San Carlos traces its origins to the Colegio de San Ildefonso, a small school founded in 1595 in Cebu. It is the oldest school in the oldest city in the Philippines. Currently, there are seven schools within USC offering 45 undergraduate degree programs as well as more than 60 programs at the master and doctoral levels. The current enrolment is pegged at about 20,000 distributed over five campuses around Cebu City. The Quacquarelli Symonds (QS) University Rankings recognized USC within the top five universities in the Philippines in 2018. More information about USC can be obtained by accessing its homepage: http://www.usc.edu.ph