Hiroshima University and the Brazilian National Nuclear Energy Commission conducted a discussion on the "Phoenix Leader Education Program (Hiroshima Initiative) for Renaissance from Radiation Disaster".
Hiroshima University conducts personnel training for radiation disaster recovery in the Program for Leading Graduate Schools, MEXT, and in October of this year HU discussed the program with Ms. Cintia Melazo Dias, a director of the Brazilian National Nuclear Energy Commission (CNEN).
After a presentation made at the meeting by Executive and Vice President Tetsuji Okamoto, who is the program manager, there was discussion on the content of the program and student recruitment. The Commission is responsible for nuclear energy management and research in Brazil, and has shown great interest in the Hiroshima University graduate school education program that is working in the field of advanced radiation disaster recovery.
Additionally, at the HU Seminar held at the Hiroshima University Brazil Center for education and research (Sao Paulo City) Executive and Vice President Okamoto explained about the program, and HU visited the government organizations of the Brazilian Federal Agency for Support and Evaluation of Graduate Education (CAPES) and the National Council for Scientific and Technological Development (CNPq) to conduct explanations and discussion.
The program is targeted students at home and abroad with the goal of nurturing global leaders in the field of radiation disaster recovery, and in the future we are anticipating the participation of students from Brazil.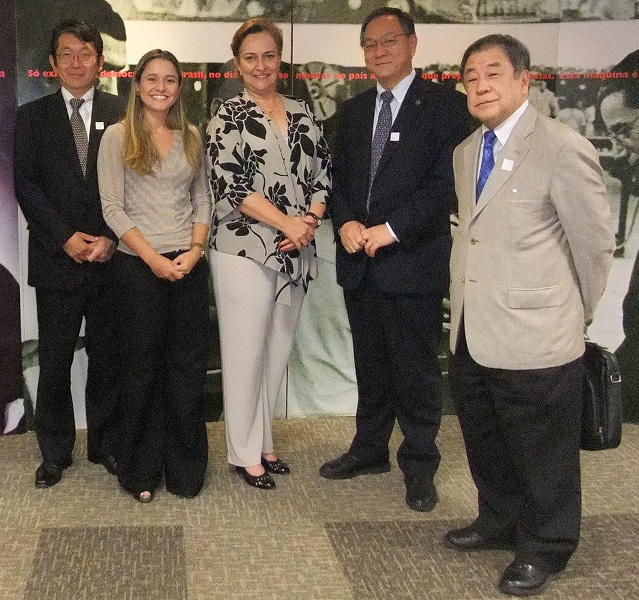 Visiting CAPES: (From center to right) Dr. Denise de Menezes Neddermeyer (Director of International Affairs, CAPES), Executive and Vice President Okamoto, Professor Masato Ninomiya (University of Sao Paulo)
【Inquiries】
Collaboration Office,
Education and International Office,
1-7-1 Kagamiyama, Higashihiroshima
739-8521, Japan TEL +81-082-424-6152