A correlation was found between strong feelings of responsibility and likelihood of developing OCD or GAD in American university students
A new study has found that people who reported intense feelings of responsibility were susceptible to developing Obsessive Compulsive Disorder (OCD) or Generalized Anxiety Disorder (GAD) was published in the International Journal of Cognitive Therapy.
"People with OCD [are] tortured by repeatedly occurring negative thinking and they take some strategy to prevent it… GAD is a very pervasive type of anxiety. [Patients] worry about everything." describes Associate Professor Yoshinori Sugiura of Hiroshima University.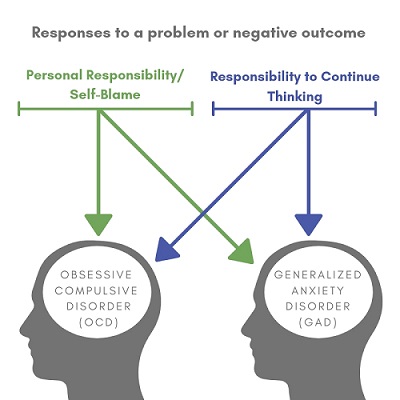 Two types of responsibility are predictors of OCD or GAD
(Credit: Emma Buchet and Associate Professor Yoshinori Sugiura/Hiroshima University)
Full bibliographic information
Journal: International Journal of Cognitive Therapy
Title: Inflated Responsibility in Worry and Obsessive Thinking
Authors: Sugiura, Y. & Fisak, B.
Media Contact
Norifumi Miyokawa
Research Planning Office, Hiroshima University
E-mail: pr-research*office.hiroshima-u.ac.jp (Please change * into @)