On October 17th, 2017 Mr. Dick Jorgensen who taught English in the post-war reconstruction period in 1950s visited Hiroshima University from California, the U. S., with his daughter Ms. Susan.
After meeting with President Ochi, Mr. Jorgensen visited the School of Education where he taught at that time and interacted with the Hiroshima University students.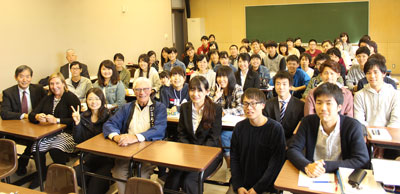 With the students from School of Education (Mr. Dick Jorgensen in the middle front)
For two years from 1954 under the sponsorship of The Asia Foundation, Mr. Jorgensen moved to Japan to represent the University of Michigan as an English teacher at the fledging Hiroshima University. Even after he went back to the States after his retirement from Hiroshima University, Mr. Jorgensen thought about his students at Hiroshima and dreamed of their reunion for over 60 years. He also wanted to see the new campuses of Hiroshima University and meet with the students. With the help from a Hiroshima University student, the 92-year former teacher was able to visit the university.
At the meeting with the President, Mr. Jorgensen donated some books to the university, and talked about his memories with the students at that time, while turning over pages of his old photo album.
After that, Mr. Jorgensen joined in a lecture at the School of Education held by Professor Seiji Fukazawa, and gave a lecture wearing a "Happpi Coat" with his name on it.
He was surprised to know that the students nowadays come from all over Japan and impressed with the large number of the students studying abroad. He said to the class, "Most of the students at that time were locals with little experience of studying abroad."
Mr. Jorgensen enjoyed talking with the students just like the old days and gave a smile when he heard one student saying, "I want to be an English teacher in the future."
Mr. Jorgensen stayed in Hiroshima for two days, i.e. on October 16th and 17th. On the 16th he visited Higashi-Senda Innovative Research Center in the Higashi Senda Campus and met his four former students who are now around 80 years old. After that, he visited the former site of Minami Branch School (then the Faculty of Liberal Arts, and now with Hiroshima University Junior High School and Senior High School in Midori district) where Mr. Jorgensen used to teach, wandering with a sense of nostalgia around the lecture hall, which is the only remaining building from his days, and its surrounding areas.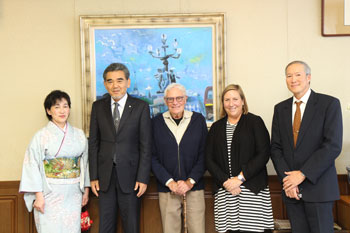 Mr. Dick Jorgensen (center), Ms. Susan (center right), President Ochi (center left)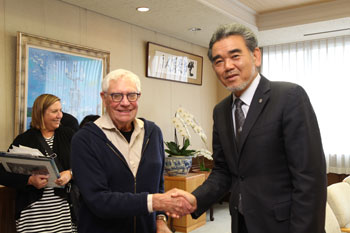 Meeting with President Ochi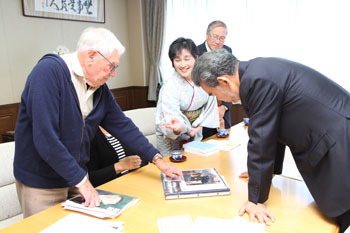 Mr. Jorgensen looking back at the old days while turning pages of his old photo album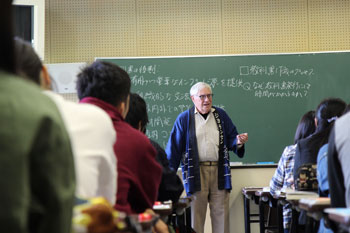 Lecturing at the School of Education
Happi Coat was given as a present from Hiroshima University more than 60 years ago.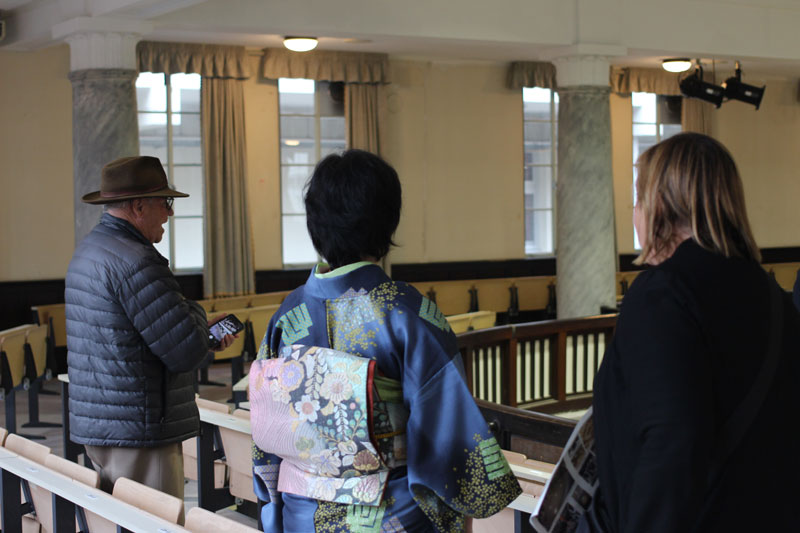 Where the lessons used to be held: Mr. Jorgensen inside the lecture hall with a sense of nostalgia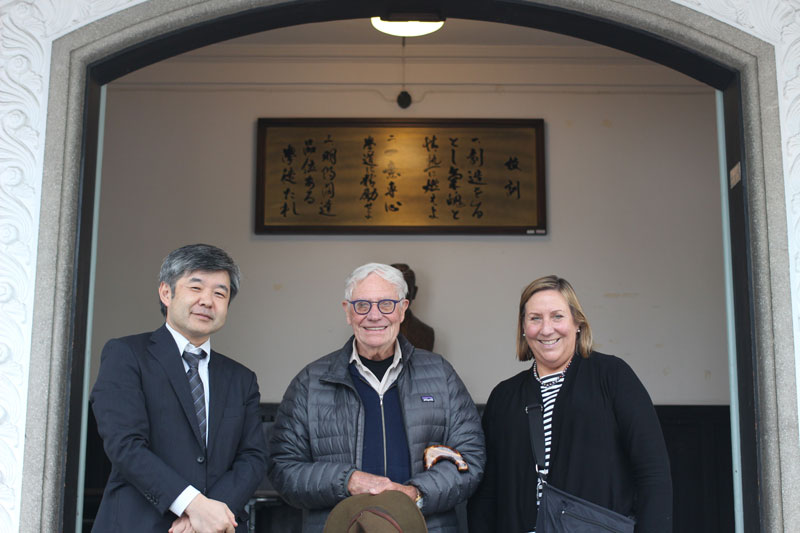 At the entrance of the lecture hall
[Inquires]
Public Relations Group, Hiroshima University
E-mail: koho*office.hiroshima-u.ac.jp (Please replace an asterisk ("*") with @ at the time of sending an e-mail)