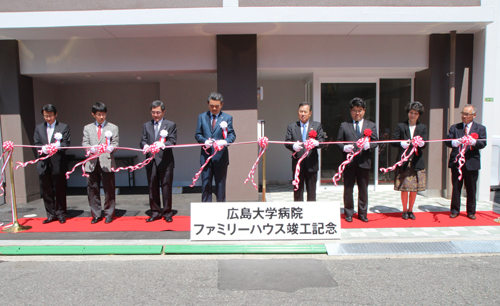 Ribbon cutting ceremony: President Mitsuo Ochi (fourth from the left)

(If you click on the photograph, you can view an enlarged photo JPEG: 1.7MB)
For families with childhood cancer children that require long hospitalization treatment, Hiroshima University Hospital completed an accommodation facility 'Hiroshima University Hospital Family House'. This accommodation is close to the hospital and the opening ceremony was held on April 27th, 2015.



It was held in Hiroshima city Minami-ku Kasumi Campus and about 100 people including guests and persons involved attended the ceremony. President Mitsuo Ochi greeted, "I hope the Family House will help to lessen the financial burden and emotional strain for the patients and their families". The ribbon cutting ceremony followed.



In 2013, Hiroshima University Hospital was designated as the 'Major hospital for Childhood cancer' in Chugoku Shikoku area, meaning it will play a key role in childhood cancer medical care in this area. With the completion of the Family House, families of patients from far areas can lead a life similar to home. The five floor building has eleven two-person, three-person rooms, multipurpose rooms and conversation lounge for users to be able to get to know one another.
| | |
| --- | --- |
| | |
| The outside appearance of the Family House is white and brown | Guests touring around the Family House |
| | |
| Two-person room (Western) (Nine rooms) | Three-person room (Japanese) (Two rooms) |
| | |
| Multipurpose room on the first floor | Conversation lounge on the third floor |


※The total project cost of the Family House was about 270 million yen. For future operations, it also requires a large amount of money, we are still accepting donations to 'Hiroshima University Hospital Family House Construction Fund'. We kindly ask for support from individuals and corporations.
Major Childhood Cancer Hospital Website
here
(Japanese Page)
Hiroshima University Hospital Family House Construction Fund Website
here
[Inquiries]

Hiroshima University Hospital General Affairs G, Management Support Office

E-mail:byo-soumu*office.hiroshima-u.ac.jp (Please replace (AT) with @)