The 6th Phoenix Leader Education Program seminar/The 51st TAOYAKA Program seminar was held.
The phoenix program provides opportunities for its graduate students to attend training sessions such as Interdisciplinary Integrated Seminars in order to gain a range of knowledge beyond his/her own discipline. As part of this, with the support of IDEC, Hiroshima University and the LBJ School of Public Affairs, University of Texas at Austin, one Phoenix student together with three other staff and students from the TAOYAKA program participated in the 2015 summer program: Public management & leadership and politics & public policy program. Participants attended lectures at both the University of Texas at Austin and in Washington D.C. During the four and a half weeks program, they also visited a variety of state and federal institutions as well as various other public agencies.
On October 26th 2015, a seminar was jointly organized by the Phoenix program and the TAOYAKA program for participants to share their experiences and knowledge from the Austin summer program with those students who were not able to attend. In the seminar Dr. Luni Piva, one of the program participants, gave a lecture on Macro-Leadership: Creating Organizational Future and Culture. Three other participants, two students and one staff member, gave presentations about what they learned and how they benefitted.
This seminar was televised to both Higashihiroshima and Kasumi campus. Forty people including eight Phoenix program students, fourteen TAOYAKA program students, eight other students and ten teaching staff attended. Those who attended stated that it was a very informative and useful discussion and suggested they would like to participate in a future summer program if the opportunity presented itself.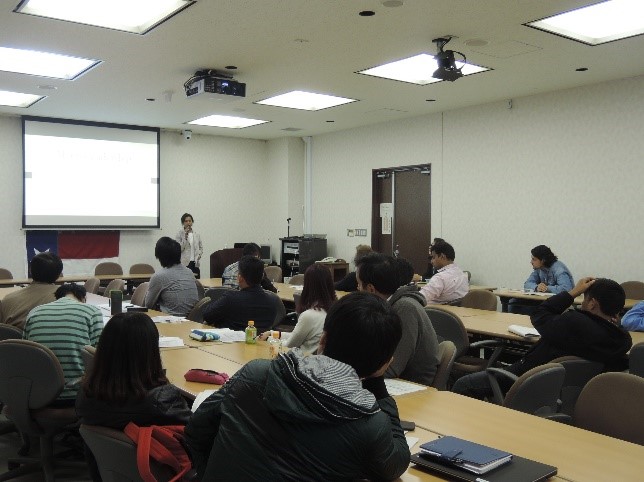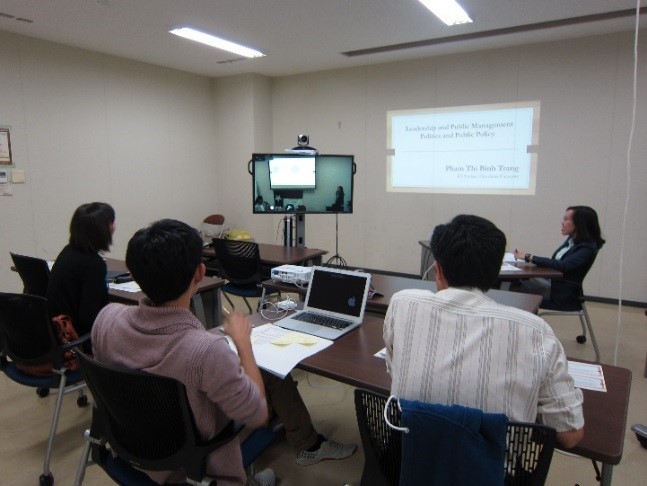 Higashihiroshima campus

Kasumi campus (TV conference)