In November, we have received donations from Italy to the FAMILY HOUSE which is the facility for children under cancer treatments and their families. This contribution was made by fundraising in Italy for children with diseases such as leukemia. Renato Lorenzon who lives in Venezia Giulia, Italy launched the project visited Hiroshima University Hospital on January 4th during his trip throughout Japan.



At the presentation ceremony, Deputy Director Kobayashi stated " We have received heart-warming donations for managing the facility to provide patients and their loved ones a comfortable care environment." and submitted a certification of appreciation to Mr. Lorenzon. A memorial plate from Italy which was brought by Mr. Lorenzon was handed in return.



After the ceremony Mr. Lorenzon visited the FAMILY HOUSE and said " This has been a great feeling having the opportunity to make our activity become a such contribution."



Hiroshima University Hospital is in need of financial help and would appreciate further donations and support. Thank you.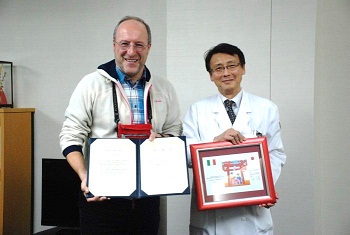 Certification of Appreciation to Mr. Lorenzon from Deputy Director Kobayashi(right)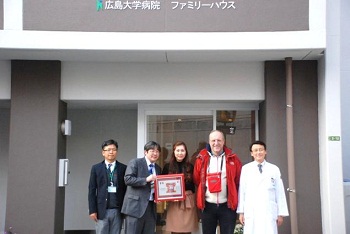 Visiting of the FAMILY HOUSE
【Inquiries】

Hiroshima University Hospital, General Affairs G, Management Support Office

TEL : 082-257-5007,5043