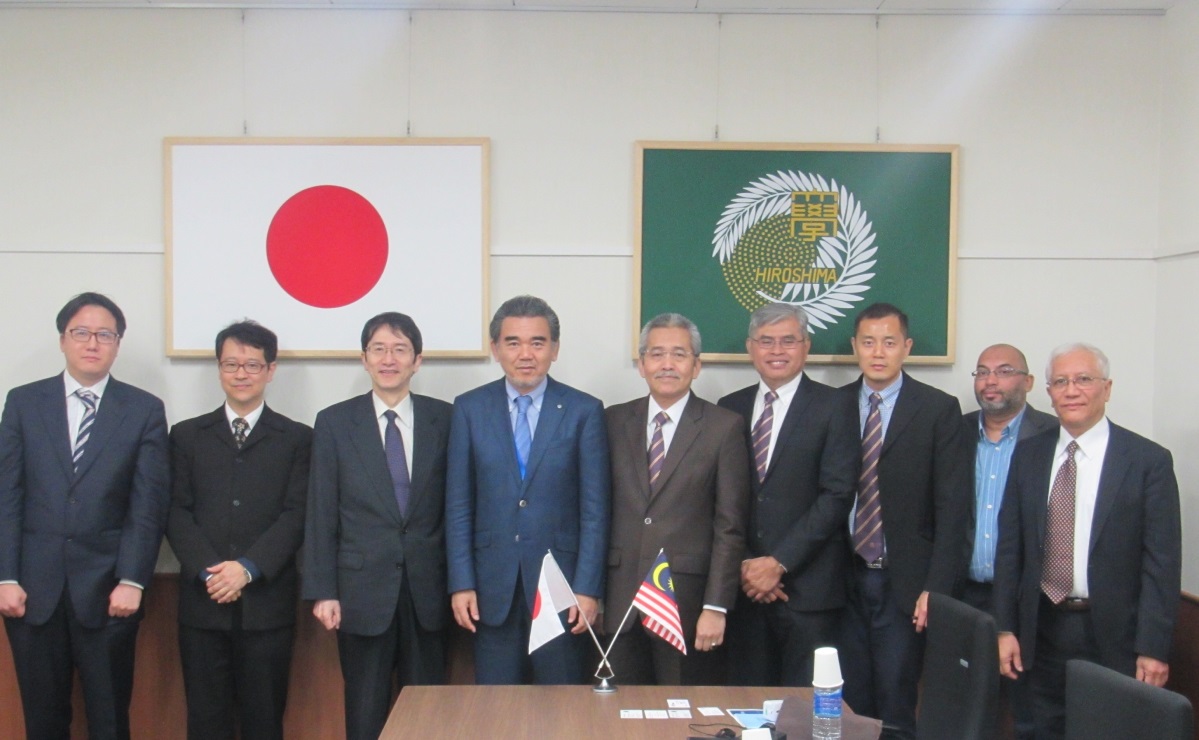 Commemorate Photo of the meeting
On February 19, President Ochi received a courtesy visit from Dato Professor Dr. OMAR OSMAN, Vice-Chancellor of University Sains Malaysia. The delegation (Dato Prof. Dr. MOHAMED JANTAN, Deputy Vice-Chancellor for Research and Innovation, Prof. Dr. LEE KEAT TEONG, Director of Research Creativity Management Office, Assoc Prof. Dr. AZEEM FAZWAN AHMAD FAROUK, Director of Centre for Policy Research and International Studies and Prof. Dr. OMAR FAROUK SHEIKH AHMAD) visited Hiroshima University Kasumi Campus and met President MITSUO OCHI, Prof. MICHIHIRO HIDE, Vice-Dean of Graduate School of Biomedical & Health Sciences, Assoc Prof. TATSUYA KUSAKABE, Center for the Study of International Cooperation in Education (CICE) and Dr. SHINYA TAKAHASHI, Assistant Professor of Hiroshima University Hospital.

In the meeting, they discussed about the concrete exchanges between the two universities.



After the meeting, the delegation observed Hiroshima University Hospital and had a short lunch meeting with Assoc Prof. KUSAKABE, Assistant Prof. TAKAHASHI and Prof. YUKIHIKO MATSUMURA from Institute of Engineering.



Hiroshima University has already had educational collaborations mainly through CICE (Assoc Prof. KUSAKABE) and also had research collaborations mainly through Graduate School of Engineering (Prof. MATSUMURA) with USM.



In this visit, both universities reached agreement on promoting academic collaboration in a wider range of fields and more active student exchanges between both universities.
【Inquiries】

International Office: Kasumi Campus Management Support Office

Hiroshima University

E-mail:kasumi-kokusai*office.hiroshima-u.ac.jp(Please change * into @)