On August 29, 2016, the signing ceremony was conducted between Hiroshima University and Chitwan Medical College (CMC), Nepal.



At the Signing Ceremony held at Hiroshima University Kasumi Campus, the Agreement was officially signed by Dr. Mitsuo Ochi, President of Hiroshima University and Dr. Harish Chandra Neupane, Chairman and Managing Director of CMC. And also Supplemental Agreement on Staff, Resident and Student Exchange between HU hospital and CMC was officially signed by Dr. Katsuhiro Hirakawa, Director of HU Hospital and Chairman Dr. Harish. Hereafter, based on the agreement and the supplemental memorandum, collaborative activities such as student and staff exchange and joint research / education on basic and clinical fields will be promoted.



Chitwan Medical College is a private university established in 2006. It has grown to be one of the best universities and colleges in Nepal. The history of collaboration between HU and CMC goes back to the time of Tribhuvan University, the predecessor of CMC. The collaboration has mainly continued in Neurosurgery field since it started. Besides this cordial relationship, the collaboration field has extended to the dentistry since Prof. Takashi Takata (Current Vice President of HU) accepted a student from CMC as PhD student at his department, the Oral and Maxillofacial Pathobiology in October 2015.



The Agreement and Supplemental Memorandum will facilitate the mutual relationship with joint student / staff exchange between HU and CMC.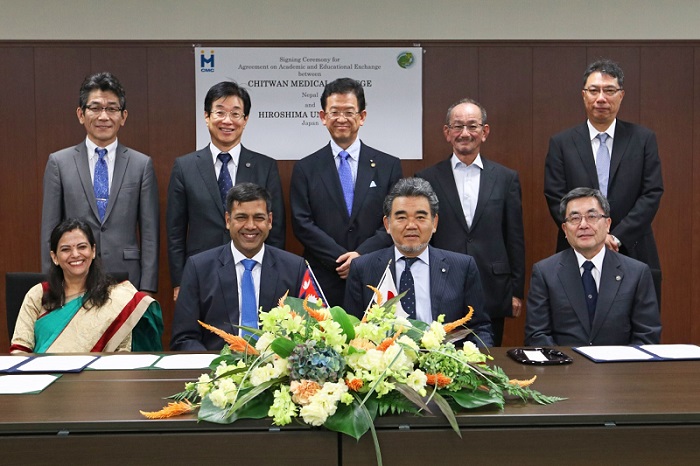 Commemorative photo at the signing ceremony



【Inquiries】

International Office, Kasumi Campus Management Support Office, Hiroshima University

TEL:+81-82-257-1705

E-mail:kasumi-kokusai * office.hiroshima-u.ac.jp(Please replace * with @)