Opening hours
Monday
|
Friday
9:30-12:30
Open
12:30-13:30
break
13:30-17:00
Open
Sat./ Sun.
Holidays
Closed
* Outside of opening hours, the front door of the IDEC library opens only with Staff ID card. Neither Students ID card nor IDEC Entrance card will be accepted. Students must be accompanied by IDEC staff or facluties if they want to enter the library out-of-service hours.
Floor Map
Circulation policy
Books
Magazines, CDs
Vols.
Loan Term
Faculty
Graduate Students
10 books
3 weeks
1 day
[2 days for statistical CD]
Others
5 books
2 weeks
Collections
Our collections are mainly focued on economics of development, education development, international relations and Asia regional culture development. We have nearly a collection of 30000 titles of books and journals (July,2009).
The following materials are available:
Statistics from International organizations
: ADB, Key Indicators, and so on.
White papers from authority
: White papers from the Ministry of Education, etc.
Publications from International Cooperation Organizations
: Journals from JICA and Institude of Developing Economies, etc.
Journals and bulletins from Universities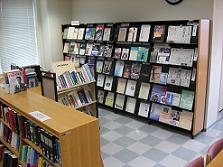 There are some audio visual materials (DVDs, TOEIC/ TOEFL CD and BBC documentary video tapes, etc). They are also available to borrow.
World Bank information Kiosk
The World Bank Tokyo Office and IDEC came together to place "World Bank Information Kiosk" in the IDEC library in 2003.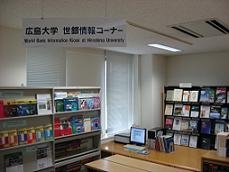 This information kiosk is placed for the purpose of introducing active discussions in academic area about the policy and actions of the World Bank. We expect many would aware and cooperate on a international development.
You can access to "World Development Indicators Online" by using a computer in IDEC library. We also have the World Bank satellite at the Institute for Peace Science Hiroshima University (Higashi-Senda).
Available materials:
・Flag Ship Publications / Project Reports
・brochures and publications from the World Bank Tokyo Office
Link
The World Bank Tokyo Office"Information Kiosk at Hiroshima University" (Japanese site)
The World Bank PIC Tokyo
The World Bank (Head Office)
Finding Materials
OPAC
(Hiroshima University OPAC & IDEC OPAC)
We offer SERVICE OF OPAC, Online Public Access Catalog.
You can retrieve all materials which the IDEC Library holds by using IDEC OPAC.
IDEC Library
Other Faculties
Books
Non-registerd Materials
Books
Non-registerd Materials
IDEC-OPAC
○
○
×
×
HU-OPAC
○
×
○
×
○ means you can retrieve via HU-OPAC and/or IDEC-OPAC.
× means you cannot retrieve via HU-OPAC and/or IDEC-OPAC.
HOW TO SEARCH MATERIALS
If the HU-OPAC shows 国際・図書室, it means the IDEC Library holds that book.
But the IDEC Library doesn't hold the books indicated below.
A: 国際・教育文化 or 国際・開発技術, etc.
Although the book is in the IDEC building, the IDEC Library doesn't hold.
Please click the link, then it'll show where that book is.
If no links, please ask the Library Staff at the IDEC Lib. or ask the librarians at University Libraries.
B: 教・教育学 or 工・建設構造, etc.
The IDEC Library doesn't have the book, please click the link, then it'll show where that book is.
If no links, please go to the University Libraries and ask the librarians.
WHAT'S 請求番号
It means Classification Numbers; All the books are sorted by Classification Numbers, you can find it in the label affixed to the back cover of the books.
Copy machine in IDEC library
IDEC members:
Please ask librarians for permission and show your ID card to use the copy machine in IDEC library.

Non- IDEC members:

Please check out materials and use copy machines located outside of IDEC library by using your own copy card.
Location & Contact
IDEC library is at the 6th floor of IDEC building.
It is run by IDEC library / bulletin committiee. There will be library staff to operate general library services, so please feel free to inquire.
Contact:
・Snail Mail
The IDEC Library, Hiroshima University
1-5-1 Kagamiyama, Higashi-Hiroshima 7398529 JAPAN

・Phone: 082-424-6915
・E-Mail
e-mail add.
Please do not send a mail which attached the file. Thank you.
*Please make a contact to the central library if you want to make a "Interlibrary Loan Order". Thank you.