Hiroshima University will be hosting the 12th Hiroshima University Homecoming day (Kasumi campus), and 51st Kasumi Festival (University Festival) on November 10th (SAT) and 11th (SUN), 2018. We will be welcoming people with many different events. Please come with your family and friends!
Click here for the directions to Kasumi campus
12th Hiroshima University Homecoming day at Kasumi campus
Hiroshima University Homecoming day is held as an event to invite alumni and former faculties.
At Kasumi campus we will host a special lecture as a collaboration event with the followings; School of Medicine, School of Dentistry, School of Pharmaceutical Sciences, Graduate School of Biomedical & Health Sciences, Research Institute for Radiation Biology and Medicine, and University Hospital.
We will be welcoming your visit to the event.
Special Lecture
Date and Time: November 10th (SAT) 3 p.m. - 4:30 p.m.
Venue: Meeting room at the Koujin Conference Hall, Hiroshima University (campus map)
Speaker: Dr. Masayo Takahashi, Project Leader of Retinal Regeneration Research Project, RIKEN Center for Biosystems Dynamics Research
Title: "The future of retinal regeneration"
Language: Japanese
Admission: Free (No registration needed)
*The lecture is open to the public.
*For more information please refer to the flyer (contents in Japanese only).
[Inquiries]
General Affairs Group, Kasumi Campus Management Support Office, Hiroshima University
TEL: 082-257-5013
E-mail: kasumi-soumu(AT)office.hiroshima-u.ac.jp (Please replace (AT) with @)
51st Kasumi Festival (University Festival in Kasumi campus)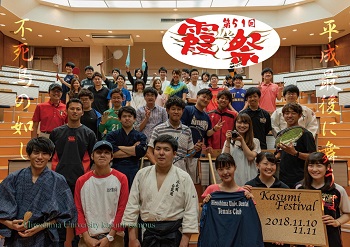 Click the image to view the full size.
Date & Time: November 10th (SAT) and 11th (SUN), 2018
Place: Hiroshima University Kasumi campus
This year's Kasumi campus festival theme is "Last blaze of the Heisei Phoenix". At the gym stage we will be hosting Mr. Kasumi contest and dace performances. There will be a picture exhibition and café as well. Also in the medical exhibition inside the faculty building, you can participate in the special events like the oral health care lecture, bone density and respiratory function check, stethoscope experience, wheel chair experience, AED lecture and so on.
There will be Bingo as well. You may win a prize! Please bring your family, friends, colleagues, or club members, with you and make a wonderful memory.
51st Kasumi Festival Twitter (Tweets in Japanese)
[Inquiries]
Student Support Group, Kasumi Campus Management Support Office, Hiroshima University
TEL: 082-257-5046
E-mail: kasumi-gaku(AT)office.hiroshima-u.ac.jp (Please replace (AT) with @)