TAOYAKA Program for creating a flexible, enduring, peaceful society will hold the 18th TAOYAKA Program Seminar.
Title:Impacts of Wind Power on Reactive Power Planning and Dispatch
Date& Time: Thu. July 24, 2014 14:35pm~16:05pm
Venue: Middle Conference Room(A1-141),Graduate School of Engineering,Hiroshima University
Speaker: El-Said El-Sayed El-ArabyAssociate Prof. ofQassim University,Saudi Arabia
Abstruct: This first part of this lecture is concerned with the impacts of the wind power integration on the optimal VAR planning and dispatch.For the VAR planning problem, the probabilistic wind power output associated with the capability curve of a doubly fed induction generator (DFIG) based wind farm has been incorporated in the formulation in order to examine its effect on the new VAR devices investment cost and compare the results with the current practice of the regulated power factor range of 0.95 leading and 0.95 lagging. The formulation is stated as an optimization problem so
that the objective function is to simultaneously minimize the sum of the annual investment cost of the new VAR devices as well as the annual expected energy loss cost. For the VAR dispatch problem, a security-constrained reactive power scheduling method taking into account the wind power variability is introduced. The reactive power scheduling is supposed to be carried out a day-ahead aiming to the maintaining voltage security for the hourly forecasted wind
power output and its relevant scenarios representing the forecasted wind power errors. The second part of the lecture introduces an overview of the Egyptian electricity grid and its current associated problems.
The seminar will be held in English.
Download a flyer: PDF (321KB)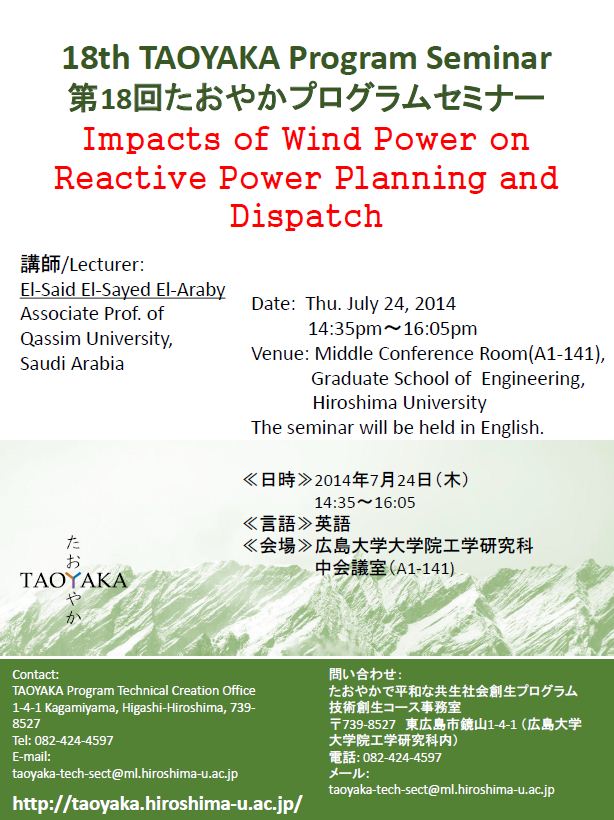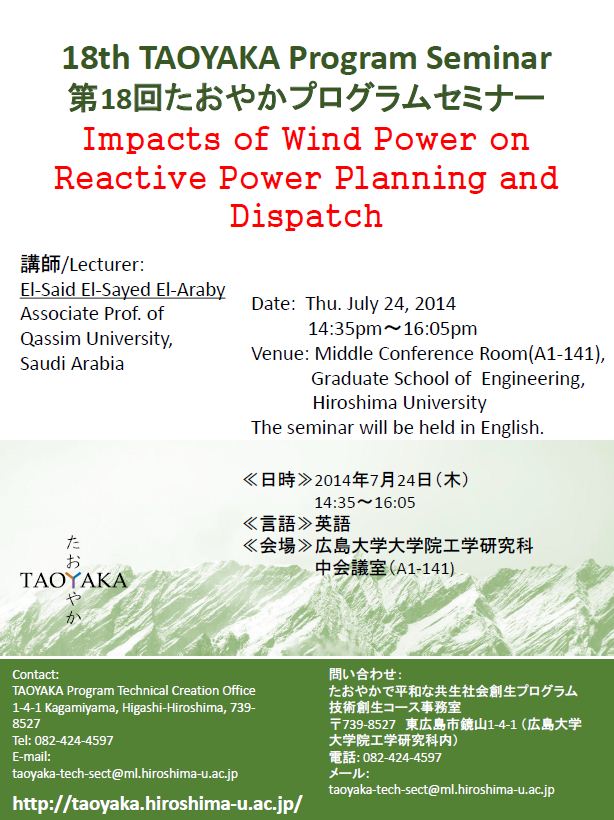 [About TAOYAKAProgram Seminar]
TAOYAKA Program frequently holds TAOYAKA Program Seminars with lecturers/speakers invited from universities within Japan and overseas, collaborative organizations and enterprises, etc.
The seminars provide opportunities to exchange information on multicultural-coexistence and to develop educational materials. Many of TAOYAKA Program Seminars are open to the public.
Please see TAOYAKA Program's website for information on upcoming TAOYAKA Program Seminars:
Contact:
TAOYAKA Program Technical Creation Office

1-4-1 Kagamiyama, Higashi-Hiroshima, 739-8527

Tel: 082-424-4597

E-mail:taoyaka-tech-sect[a]ml.hiroshima-u.ac.jp
*please replace [a] with @.