TAOYAKA Program for creating a flexible, enduring, peaceful society will hold the 20th TAOYAKA Program Seminar (The 53rd Business Seminar).
Date: Wednesday, August 27th 14:30-16:00
Venue: Graduate School of Advanced Sciences of Matter, 401N lecture room
Lucturer: Tetsuo Urabe (Former executive officer SVP, Sony Corporation)
Title:Passion is a key driver for R&D commercialization –An example of the development of organic electroluminescence televisions
Abstract: Sony Corporation has commercialized electroluminescence television in 2007 for the first time in the world. The speaker will talk about how his struggling experience towards its commercialisation made him learn that 'strong will leads the way'.The message to the students is to become a brilliant person by taking action and making their determinations based on information rather than just acquiring a vast amount of information.
The seminar is held in Japaness with interpretation into English.
Download a PDF(973KB)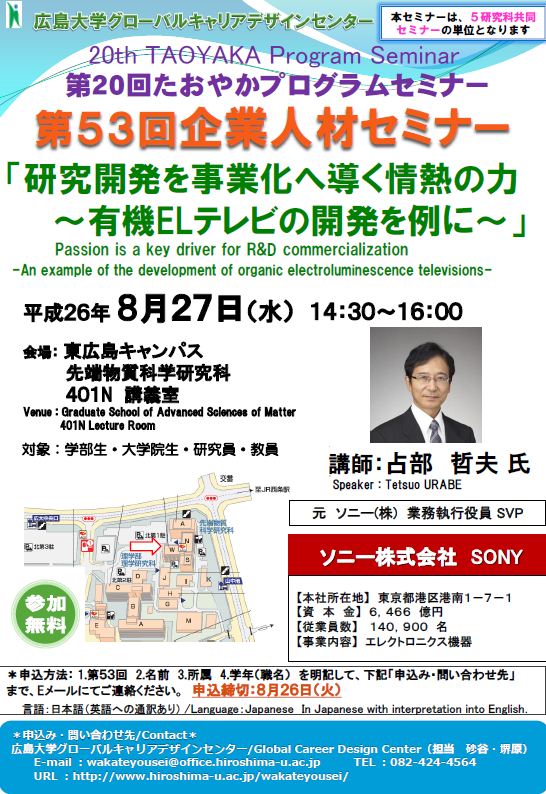 [About TAOYAKAProgram Seminar]

TAOYAKA Program frequently holds TAOYAKA Program Seminars with lecturers/speakers invited from universities within Japan and overseas, collaborative organizations and enterprises, etc.

The seminars provide opportunities to exchange information on multicultural-coexistence and to develop educational materials. Many of TAOYAKA Program Seminars are open to the public.

Please see TAOYAKA Program's website for information on upcoming TAOYAKA Program Seminars:

TAOYAKA Program Website



Please send e-mail to below address if you attend the seminar.(name, affiliation and grade)
Contact:

Global Career Design Center /Tel: 082-424-4564

E-mail:wakateyousei[a]office.hiroshima-u.ac.jp

*please replace [a] with@