TAOYAKA Program for creating a flexible, enduring, peaceful society will hold the 21st TAOYAKA Program Seminar
Date:Tue, September 2, 2014 16:20pm-17:50pm
Venue:A1-141 Middle Meeting Room, Graduate School of Engineering, Hiroshima University
Lecturer:Akio Namiki
Title:Research of High-Speed Advanced Robot Systems
Language:English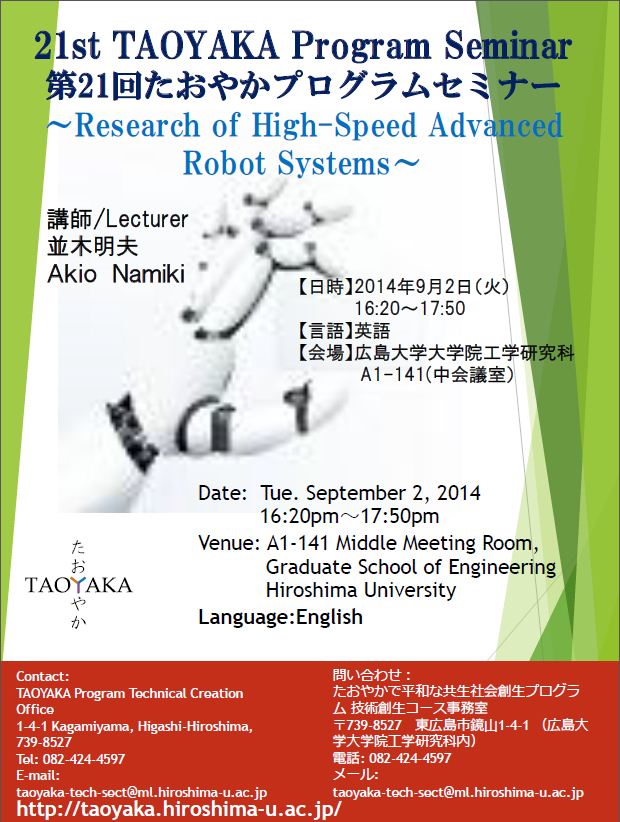 Download a flyer (PDF)
[About TAOYAKAProgram Seminar]

TAOYAKA Program frequently holds TAOYAKA Program Seminars with lecturers/speakers invited from universities within Japan and overseas, collaborative organizations and enterprises, etc.
The seminars provide opportunities to exchange information on multicultural-coexistence and to develop educational materials. Many of TAOYAKA Program Seminars are open to the public.
Please see TAOYAKA Program's website for information on upcoming TAOYAKA Program Seminars:
Contact:

TAOYAKA Program Office

1-5-1 Kagamiyama, Higashi-Hiroshima, 739-8529

Tel: 082-424-6152

E-mail:taoyaka-program[a]office.hiroshima-u.ac.jp

*please replace [a] with @.