TAOYAKA Program for creating a flexible, enduring, peaceful society will hold the 25th TAOYAKA Program Seminar (The 54th Business Seminar).




【Title】 Some Industrial Aspects of Systems Engineering
【Lecturer】 Albert B.Gilg Prof.Dr.Dr-Ing.h.c Siemens AG & TUM, Munich/Germany 


【Time&Date】 Wednesday, November 5th, 2014 13:00-14:30 
【Venue】Graduate School of Engineering, Middle Conference Room A1-141, Hiroshima University  



【Abstruct】 

Systems definition is, first of all, strongly correlated to individual, academic or business viewpoints. Industry business and industry products evolve and increasingly often change abruptly. Even

originally quasi-isolated systems like systems-on-a-chip have become embedded systems, in some cases as autonomous systems and nowadays as (sub-) systems-of-systems or cyber-physical systems. Furthermore multi-disciplinary systems, such as mechatronic products, growingly suffer from primary or lead discipline centered engineering approaches. Thus systems engineering as a key industrial capability is still very much challenged to provide adequate assistance by new methods, solutions and tools. 



This seminar talk addresses characteristics of a changing industry company with its system products morphing form mechatronic products to cyber-physical systems. It will introduce an adequate system engineering process methodology (under development by a German consortium) and highlight some key challenges in engineering product and systems optimization with increasing impact of demand for robustness and uncertainty management.



The Seminar will be held in English and is open to the public.
Download a PDF(496KB)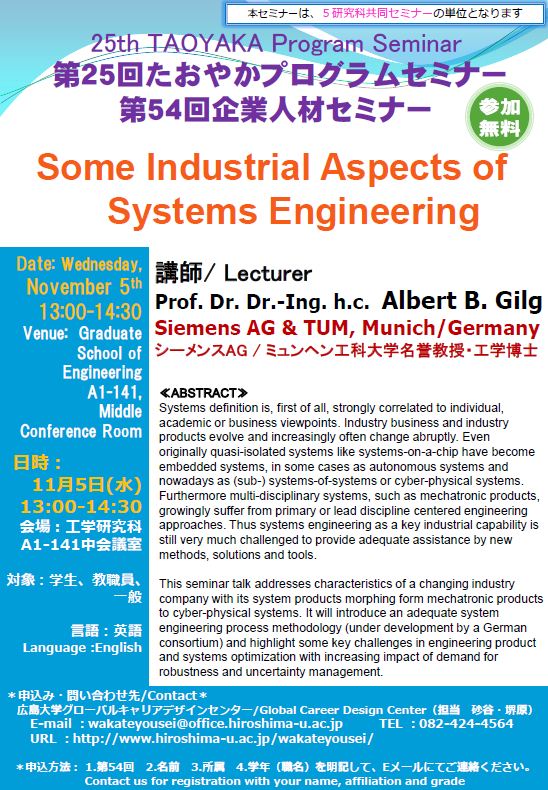 [About TAOYAKAProgram Seminar]
TAOYAKA Program frequently holds TAOYAKA Program Seminars with lecturers/speakers invited from universities within Japan and overseas, collaborative organizations and enterprises, etc.

The seminars provide opportunities to exchange information on multicultural-coexistence and to develop educational materials. Many of TAOYAKA Program Seminars are open to the public.

Please see TAOYAKA Program's website for information on upcoming TAOYAKA Program Seminars:

TAOYAKA Program Website



Please send e-mail to below address if you attend the seminar.(name, affiliation and grade)
Contact:

Global Career Design Center /Tel: 082-424-4564

E-mail:wakateyousei[a]office.hiroshima-u.ac.jp

*please replace [a] with@