The 29th Taoyaka Program Seminar will be held on January 8th.
Title : India-Japan Relations in the 21st Centry
Date : 15:00pm-16:30pm,Thursday. January 8th, 2015
Venue : Library Hall, Central Library, Hiroshima University
Lecturer: Mr. Aseem R. Mahajan (Counsul General of India, Osaka-Kobe)
Language: Simultaneous interpretation provided (English/Japanese)
Jointly hosted by the Center for Contemporary India Studies at Hiroshima University (HINDAS)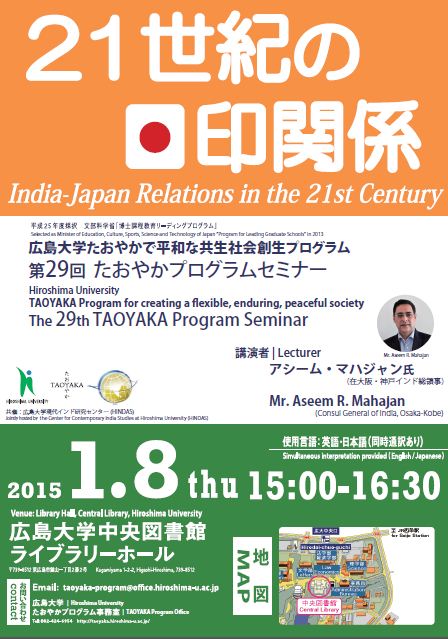 Download a flyer:
PDF
(1610KB)
[About TAOYAKAProgram Seminar]

TAOYAKA Program frequently holds TAOYAKA Program Seminars with lecturers/speakers invited from universities within Japan and overseas, collaborative organizations and enterprises, etc.

The seminars provide opportunities to exchange information on multicultural-coexistence and to develop educational materials. Many of TAOYAKA Program Seminars are open to the public.
Please see TAOYAKA Program's website for information on upcoming TAOYAKA Program Seminars:

TAOYAKA Program Website
Contact:

TAOYAKA Program Office

1-5-1 Kagamiyama, Higashi-Hiroshima, 739-8529

Tel: 082-424-6152

E-mail:taoyaka-program[a]office.hiroshima-u.ac.jp

*please replace [a] with @.