TAOYAKA Program for creating a flexible, enduring, peaceful society will hold the 31st TAOYAKA Program Seminar.
Date: 12:50-14:20, Wed. February 4, 2015


Venue: Large Conference Room, Graduate School for International Development and Cooperation (IDEC), Hiroshima University


Lecturer: Prof. Swaran Singh (Jawaharlal Nehru University, New Delhi, India)


Theme: India's Nuclear Disarmament Policy




Language: English


The Seminar is open to the public.
Peace has been integral to civilization and cultural DNA of Indian society and disarmament has been a critical tool of Indian State seeking to achieve peace. India was votary of disarmament even before it became independent and visions of India's founding fathers were deeply impacted upon by dropping of atomic bombs on Hiroshima and Nagasaki triggering first debate on India's nuclear disarmament policy.
In terms of its evolution, India's nuclear disarmament policy began with rather utopian and idealist approach seeing world peace. But it gradually became rooted in national needs for security and prestige witnessing a two-pronged approach of propagating nuclear disarmament while allowing scientific community to pursue nuclear technologies that finally resulted in India's nuclear weapon tests o of 1974 and later in 1998 when India finally declared itself to be a nuclear weapon state.
There are reasons for this gradual and reluctant shift and India's nuclear doctrine nevertheless continues to propagate general and complete disarmament. Instead of being an outlier, India now seeks to achieve a nuclear weapon free world from inside the charmed circles of nuclear weapon powers. India has also since come to be known less as a state with nuclear weapons state and more as an enormous market for nuclear technologies especially for nuclear power. This marks a noble approach in India's pursuit for peace.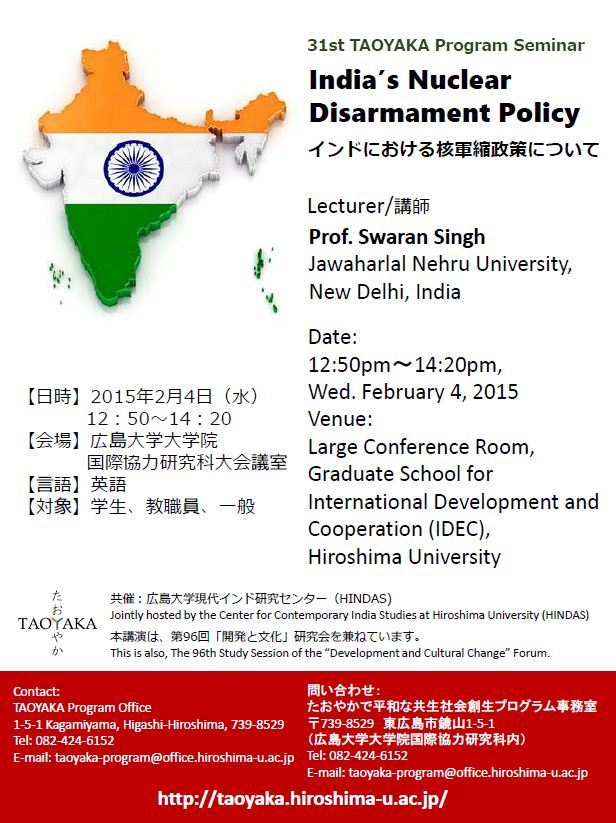 Jointly hosted by the Center for Contemporary India Studies at Hiroshima University (HINDAS)
This is also, The 96th Study Session of the "Development and Cultural Change" Forum.
1-5-1 Kagamiyama, Higashi-Hiroshima, 739-8529
E-mail:taoyaka-program[a]office.hiroshima-u.ac.jp
*please replace [a] with @.