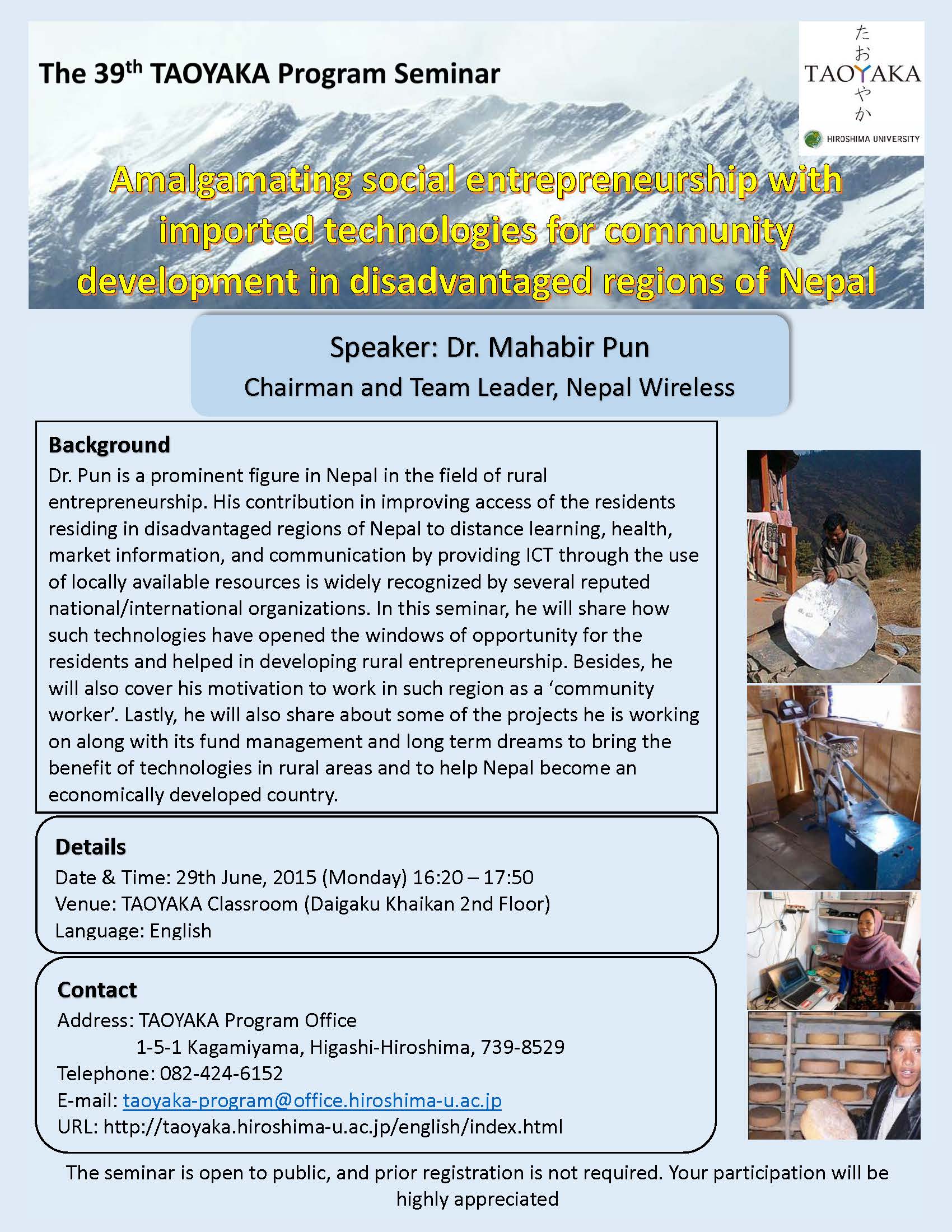 The 39th TAOYAKA Program Seminar will be held as follows. The seminar is open to public, and prior registration is not required. Your participation is most welcome.


【Date & Time】 29th June, 2015 (Monday) 16:20-17:50


【Venue】 TAOYAKA Classroom, Daigaku Kaikan (University Hall) 2nd Floor (Campus map)


【Theme】 Amalgamating social entrepreneurship with imported technologies for community development in disadvantaged regions of Nepal
【Speaker】 Dr. Mahabir Pun (Chairman and Team Leader, Nepal Wireless)
【Language】 English
【Background】

Dr. Pun is a prominent figure in Nepal in the field of rural entrepreneurship. His contribution in improving access of the residents residing in disadvantaged regions of Nepal to distance learning, health, market information, and communication by providing ICT through the use of locally available resources is widely recognized by several reputed national/international organizations. In this seminar, he will share how such technologies have opened the windows of opportunity for the residents and helped in developing rural entrepreneurship. Besides, he will also cover his motivation to work in such region as a 'community worker'. Lastly, he will also share about some of the projects he is working on along with its fund management and long term dreams to bring the benefit of technologies in rural areas and to help Nepal become an economically developed country.
【Contact】

TAOYAKA Program Office (Graduate School for International Development and Cooperation, Hiroshima University)

E-mail: taoyaka-program(AT)office.hiroshima-u.ac.jp (*Please replace (AT) with @)
The website of TAOYAKA Program is here.