The Second Global Field Visit was held.


The second global field visit took place on the 15th and 16th of March 2015. Six students attended the Third UN World Conference on Disaster Risk Reduction Public Forum, Educating Future Leaders in Global Safety: Lessons and Practice in the Affected Areas of Great East Japan Earthquake in Sendai. It was organized by the Center for Education and Research on Science for Global Safety, Tohoku University. At this symposium Professor Toshinori Okuda, radioactivity environmental protection course, and one of the program students currently in the 3rd year of the radioactivity environmental protection course, made their presentations on the Phoenix Leader Education Program. The participating students also attended various public forums related to their specific research interest in order to have the opportunity to meet and talk with other participants from around the world and to help broaden their perspectives.
On the 17th March, with the support of the Innovative Flex Course for Frontier Organic Material Systems, Yamagata University, and under the supervision of five of our program members, the program students learned about situation of support for the residents who were affected by the Fukushima nuclear power plant accident. This took place at the faculty of engineering and the sites in Yonezawa city as per schedule below. They also learned about the culture and traditions of Yonezawa as these represent important background factors to be considered when planning support.
See a student's report here >>>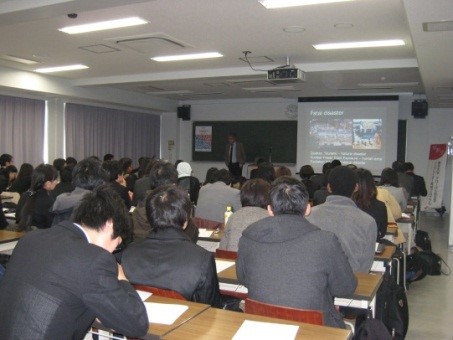 3rd UN World Conference on Disaster Risk Reduction Public Forum in Sendai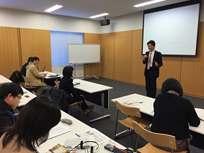 Greeting by Prof. Takahashi
(Vice-Director, Yamagata University)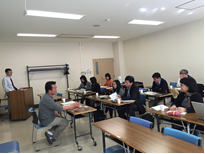 Seminar by Assoc. Prof. Ayabe, and Mr. Ueno