Scientists observe that one molecule increases liposarcoma tumor cell spread and aggression while another molecule from the same family decreases migration and cell proliferation.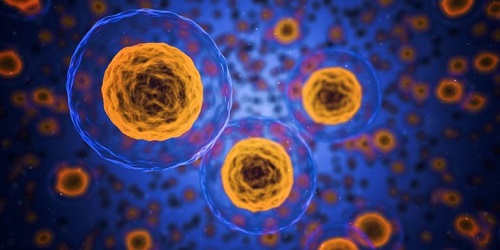 Researchers at Hiroshima University have found that different levels of two molecules of the same family--TIMP-1 and TIMP-4--can influence prognosis of liposarcoma.
High levels of TIMP-1 lead to a poor prognosis while high TIMP-4 indicates a less severe form of liposarcoma. This study, published in Carcinogenesis 10th May 2019, described the molecules' mechanism of action through the YAP/TAZ pathway. Further research can lead to new treatments and better methods of diagnosis for liposarcoma.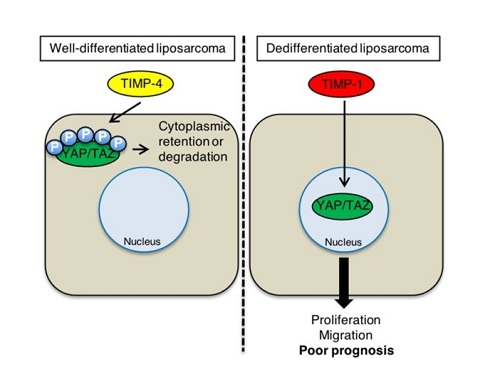 TIMP-4 prevents YAP/TAZ from entering the tumor cell nucleus. It is then stored in the cytoplasm and degraded. TIMP-1 activates YAP/TAZ and leads to cell proliferation.
Full bibliographic information
Journal: Carcinogenesis
Title: The transition of tissue inhibitor of metalloproteinases from -4 to -1 induces aggressive behavior and poor patient survival in dedifferentiated liposarcoma via YAP/TAZ activation
Authors: Shrestha, M., Ando, T., Chanbora, C., Sakamoto, S., Nishisaka, T., Ogawa, I., Mutsumi Miyauchi, M., Takashi Takata, T.
DOI: 10.1093/carcin/bgz023
[Media Contact]
Norifumi Miyokawa
Research Planning Office, Hiroshima University
E-mail: pr-research*office.hiroshima-u.ac.jp (Please change * into @)