DNA damage induced by radiation exposure causes harmful mutations in genomes and critical diseases such as cancer. Histone proteins, around which DNA wraps, play important roles in the DNA-damage repair process. To clarify the structural alternation of histones in the process, researchers at the Hiroshima Synchrotron Radiation Center ran synchrotron-radiation circular dichroism spectroscopy at the said center, in collaboration with National Institutes for Quantum and Radiological Science and Technology and Ibaraki University. We found that histones extracted from DNA-damaged cells formed different steric structures in solution compared with those extracted from undamaged cells. It provides an important clue to understand the DNA-damage repair processes.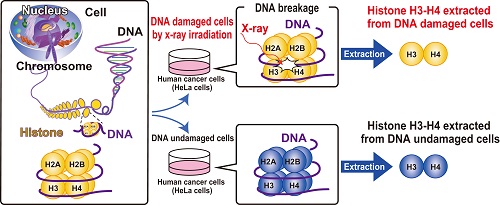 To study the DNA repair process, we extracted histone H3 and H4 proteins from the DNA damaged cells by x-ray irradiation.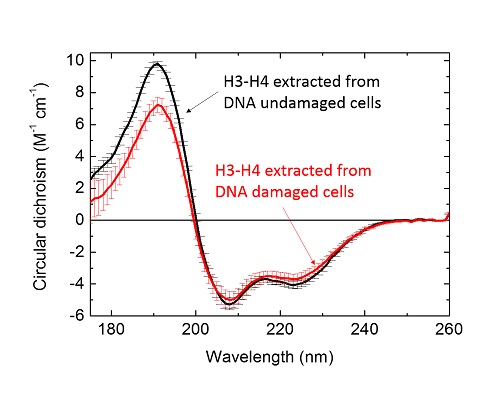 Observation of structural alternation of histones in the DNA repair process.
Reference
Title: DNA damage response induces structural alterations of histone H3-H4
Journal: Journal of Radiation Research
Authors: Y. Izumi, K. Fujii, S. Yamamoto, K. Matsuo, H. Namatame, M. Taniguchi, and A. Yokoya
DOI: 10.1093/jrr/rrw086
[Inquiries]
Hiroshima Synchrotron Radiation Center,
Hiroshima University
E-mail: hisor(AT)hiroshima-u.ac.jp (*Please replace (AT) with @)