In April 2019, Hiroshima University established the Graduate School of Integrated Sciences for Life. A billboard unveiling ceremony was held on April 2 outside the premises of the former Graduate School of Biosphere Science witnessed by dignitaries and staff led by University President Mitsuo Ochi and the new Dean of the Graduate School of Integrated Science for Life Professor Yoshifumi Nishimura.
At the unveiling ceremony, President Ochi stated, "We would like to train human resources capable of comprehensive understanding of a wide range of fields from basic to applied in the field of research on biology and life sciences, to have high expertise, and a broad-based culture to create "science leading to sustainable development" while flexibly integrating and collaborating with other research fields."
The new Graduate School was established out of the amalgamation of different life science laboratories from across the Higashi-Hiroshima campus that were formerly affiliated in different schools and graduate schools. With the new Graduate School, it is expected that cutting edge research efforts in the various fields of the life sciences can be brought to higher levels in order to better compete globally with other top-ranked universities around the world.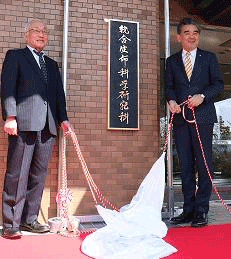 Dr. Ochi (right) and Dr. Nishimura are shown after the unveiling of the billboard.