On December 17, Mr. Yuta Shimada, a 1st year student of the School of Science won first prize in the All Japan Bibliobattle* 2017 held in Tokyo.
A total of 1,160 people from 127 schools participated in the qualifying tournament held all over Japan, and the 36 participants who won in the qualifying tournament went to the semi-finals. On the day of the finals, 36 participants were separated into six groups consisted of six people, and semi-final was held in the group. Afterwards the six winners of the semi-final went up to the finals.
Mr. Shimada introduced the "18禁日記 (literally it means R-18 Diary, by Atsuto Ninomiya, from the TO Entertainment)". He introduced the charms of the book with gestures, sometimes making the audience laugh and surprised. It was the first time for the student of Hiroshima University to join this competition and receive the first prize.
Thank you all for your support.
*Bibliobattle: Participants come together with their favorite or an interesting book then introduce the book for five minutes one by one. The presenters introduce books without using slides or résumés. After all presentations, the "champ-bon (literally it means the best book)" is awarded for the book that wins the largest number of votes from both audience and presenters.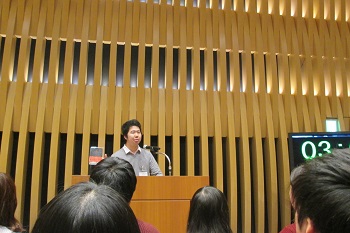 Mr. Shimada passing the qualifying tournament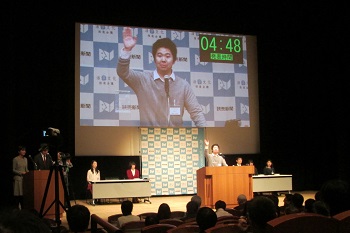 The final stage was much bigger than the qualifying tournament stage.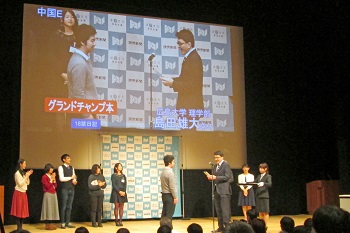 Mr. Shimada's book was elected as the champ-bon (the Best Book).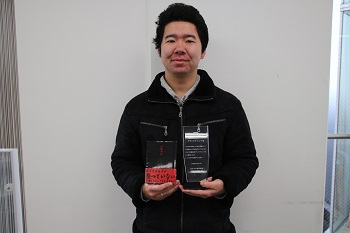 Mr. Shimada with the elected book and the trophies in his hand
[Inquires]
Hiroshima University Library