The 6th International Peace and Co-existence Seminar
Topic: Archives for Transitional Justice: Opportunities and Challenges
Speaker: Ulrike Lühe (Researcher and Program Officer, Dealing with the Past Program, Swisspeace)
Date and Time: Thursday, 17 June / 4:20pm-5:50pm (JST)
Venue:Online with Microsoft Teams
Content:
This seminar explains the conceptual foundations of transitional justice, focusing on archives and their role in transitional justice processes. Drawing from examples in Africa and Europe, the seminar asks what can archives contribute to transitional justice, but also how might they hinder or shape (the nature of) transitional justice.
Ulrike Lüke recently concluded her Ph.D. as part of the three-year project "Knowledge for Peace, Understanding Research, Policy, and Practice Synergies" and focused on the practice of expertise in international relations as shown in the development of the African Union's Transitional Justice Policy. She holds BAs in African Studies and Political Science from the University of Leipzig, Germany, and an MPhil in Justice and Transformation from the University of Cape Town, South Africa.
Language: English
Organizer: International Peace and Co-existence Program
Registration: https://bit.ly/IPCSeminar6 or scan QR code on the flyer below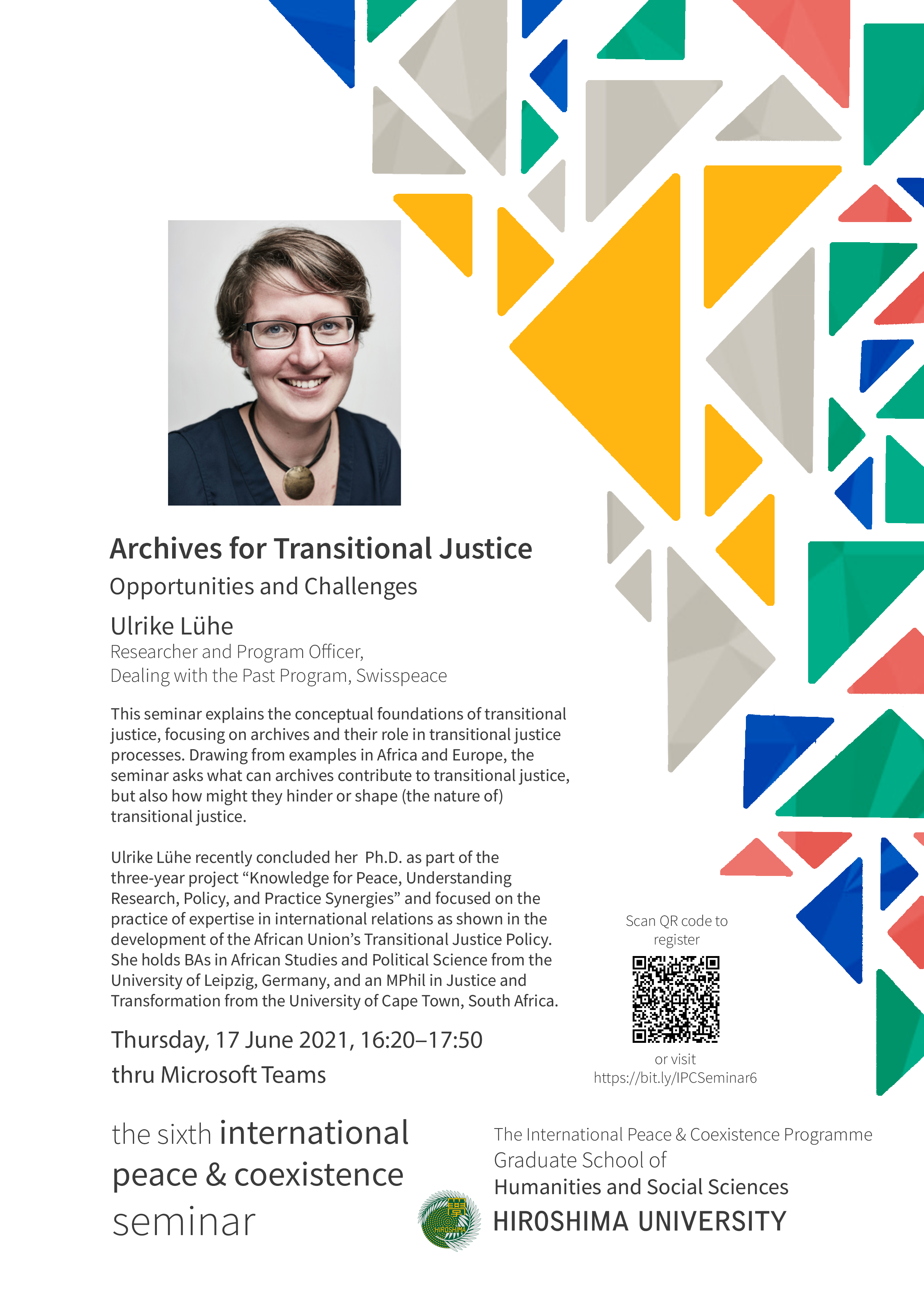 [June 19 and July 3 (JST)] Admission Information Online Session for the International Peace and Co-existence Program
We will hold online information sessions about our program's features and admission.
At the end of sessions you can talk with some of our professors and ask questions in person. Please feel free to join the sessions.
Dates and Times
- The 1st Session (in Japanese): Starting at 3 pm (JST) on Saturday, June 19th, 2021
- The 2nd Session (in English): Starting at 6 pm (JST) on Saturday, July 3rd, 2021
International Peace and Co-existence Program
This cross-disciplinary program aims to consolidate students' basic knowledge and to enhance their critical thinking skills in the academic disciplines of Peace Studies, Cultural Anthropology, International Relations, Law, Ethics, and Area Studies under the common key concept of "Peace and Co-existence."
All lectures are conducted in English, but students can write their dissertations in either English or Japanese to submit for the degree of Master or PhD.