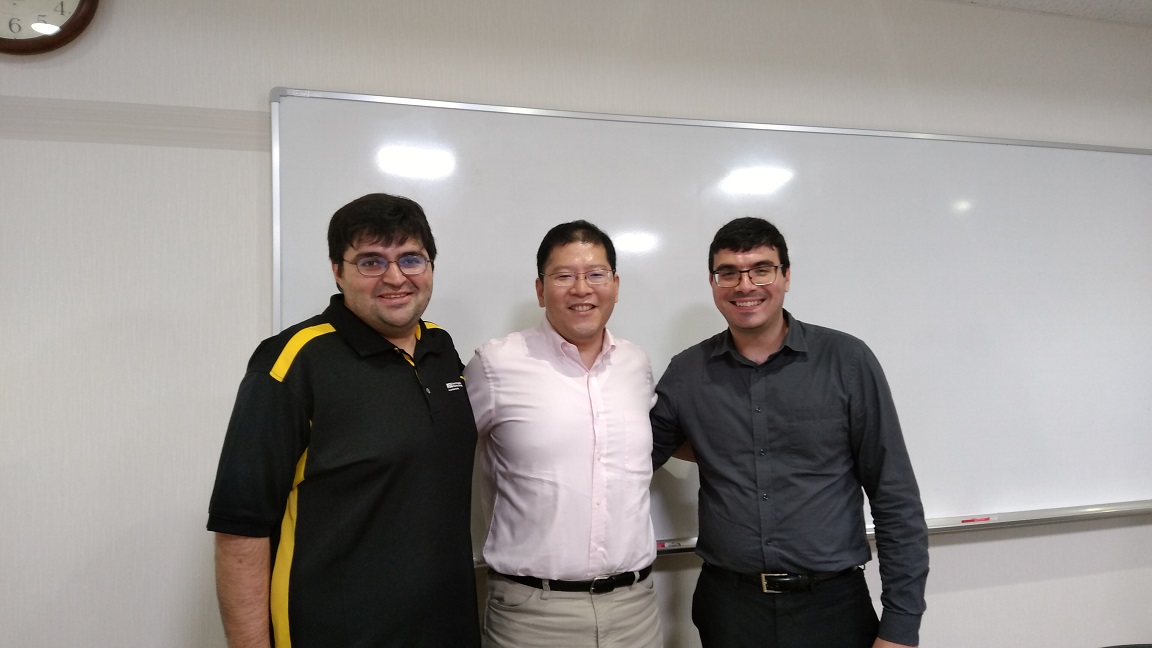 Left to right: Ramin Tadayon, Yuchi Kurita and Troy McDaniel
On the first week of July, members from Arizona State University (ASU) visited Hiroshima University to discuss their research and recent close collaboration. Science Communication Fellow Emma Buchet had the chance to sit down with Ramin Tadayon, Troy McDaniel from ASU and Yuichi Kurita from HU to find out more about their research, collaboration and plans for the future.
This collaboration began in 2018. "We started talking with HU probably two years ago. It really all started with us coming together and just talking about our interests. It was just a natural fit," describes Troy McDaniel, Associate Director, Center for Cognitive Ubiquitous Computing (CUbiC) ASU. Since then HU has made multiple staff hires from ASU, including Ramin Tadayon, an Assistant Researcher also at CUbiC. Tadayon worked at HU for 6 months (October 2018-April 2019) in Professor Yuichi Kurita's lab, developing a smart coaching system to help the elderly in their daily tasks.
"Generally, my research area and my students' research interests are biomechanics, robotics, and virtual reality. It's more on the hardware side. Ramin and Troy are specialists in AI and serious games, but we have the same interests," said Kurita.
"It was the perfect synergy," said McDaniel.
Joint Research Project
The main joint research project between HU and ASU is the NEDO project, aimed to build a "smart society for enjoying long and healthy life, and developing AI for smart coaching voluntary skill-up in elderly".
"There is a gap between the healthy and total lifespan in the elderly," explains Tadayon. This means that people are living longer than their "healthy" lifespan and face health and mobility problems. Exercise is important to extend the healthy period of our lifespan .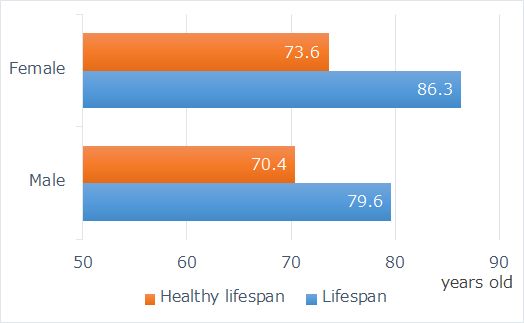 The research aims to reduce the gap between a person's lifespan and healthy lifespan (Kurita / Hiroshima University)
"One aspect is that when an elderly subject that is exercising, you want to maintain a level of support for the muscles. Kurita-sensei's lab has developed these pneumatic gel muscles and soft exoskeletons that are capable of providing this type of support in a lightweight. manner and in a way that can be adjusted to provide the right level of support for the individual, '' said Tadayon (Click here to read more about Kurita's research).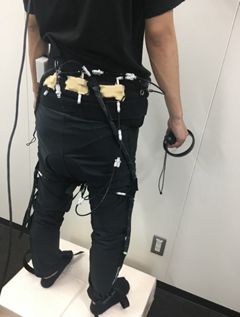 Training suit using the artificial muscle developed by Daiya Industry Co. Ltd.
The research team from ASU and HU developed a squat exercise, using an exoskeleton for support, to build up lower-body strength in elderly people. This can help with activities such as walking, sitting and standing, and tasks that require them to bend down AI and gamification (the task is in the form of a ski jump) are used to assess and motivate the participants to continue to exercise. This exoskeleton and interface are not supposed to replace the subject's own body completely, but support the wearer to achieve. more than they could without the device.
"If we assist everything [patients] will not use their own muscles!" Insists Kurita.
A challenge for researchers is to create a device that can be easily worn and used by the elderly. This device is targeted to those in need in their homes.
"Exoskeletons are traditionally hard, heavy and can be expensive. We wanted to develop simpler artificial muscles. These use air pressure to contract and are lightweight," said Kurita.
The AI ​​interface is also designed to provide the right level of support.
"We want to support individuals to independently use these devices. The device needs to be able to smartly assess, adapt and react to and interact with the human just as a human trainer would, and be able to do it quickly. Abilities are very different person to person and even one person's abilities change over time. So this is why adaptation is so important. This software can learn about how [users] are responding to exercise. Once we learn about that response, we can change the level of support that is being given by the exoskeleton and the difficulty of the exercise task, "said Tadayon.

Currently, the exoskeleton and interface have been tested with healthy subjects and "fake" elderly subjects by hanging heavy weights on their joints to simulate more difficult mobility.This research is not only applicable to the elderly in Japan but has wide-reaching benefits, said McDaniel.
"[The US] has a sizable elderly population as well we want to support but, in addition to that, stroke is a big issue in the US.How can we provide a rehabilitative technology to people with physical impairments to help them regain that functional ability they had lost? So, this research has many different applications.I'm motivated by helping people with disabilities, so all my applications are based around that, "he said.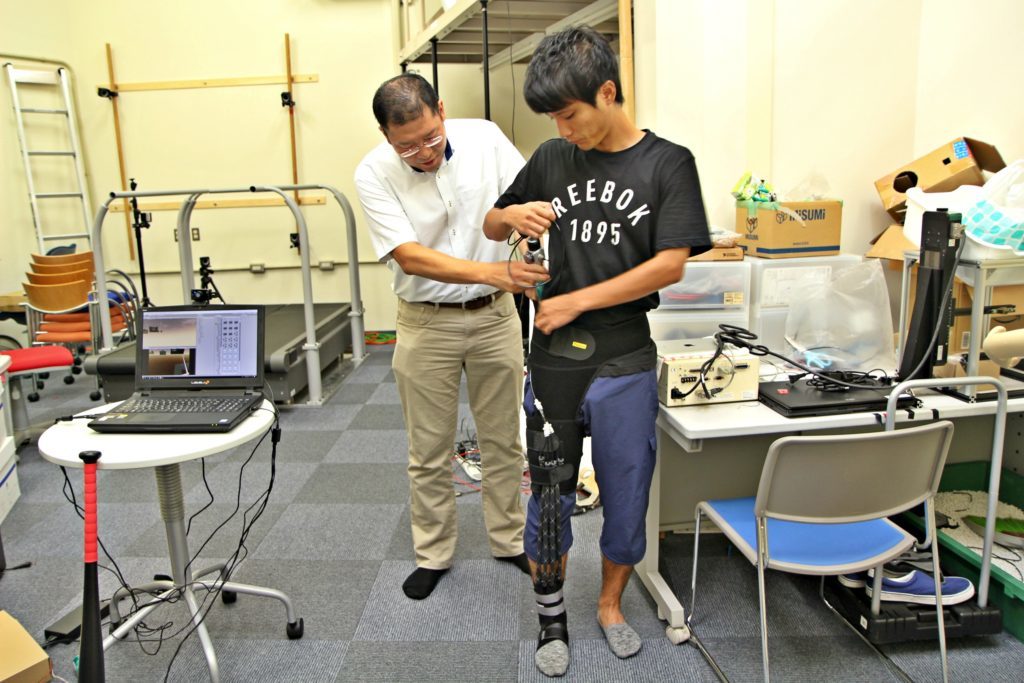 Yuichi Kurita helps one of his students Yuya Ishibashi put on a kick augmentation exoskeleton. (Image originally featured in this article.)
Making connections
Tadayon had a good experience during his stay at HU:
"I feel in the 6 months I stayed we were able to push a massive research initiative.It was a great example of the collaboration that is possible between the two institutions because it brought forward the expertise that Kurita's lab had in the design of the exoskeleton. technology and the gamification knowledge, as well as my own experience with adaptation in games and AI applications.The experience has been very very wonderful which is why I can't keep myself away and I'm looking forward to coming back!
The same sentiment was echoed by Kurita
"It worked very well and it had a very nice effect on my lab members. Not all the students have experience with educated foreign students or researchers. Especially Ramin's focus of research. The thing that has the most impact is that we can offer the students the experience to talk face-to-face with people living outside Japan," he said.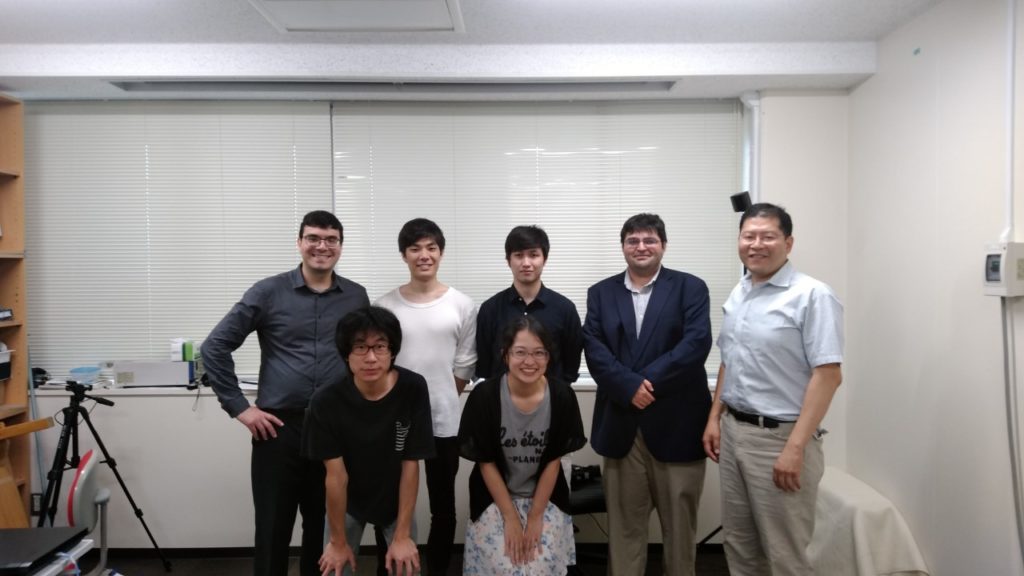 From top left to right: Troy McDaniel, Masato Hamada, Wataru Sakoda, Ramin Tadayon and Yuchi Kurita. Bottom: Ryota Sekizuka, Mayuko Minakata
Plans for the Future
This is only the start of this type of collaboration between ASU and HU.
"We would like to hire people and students from HU. We are trying to explore other synergies with faculty and trying to connect the dots. We're still brainstorming ideas but we're talking about combining these different elements and perspectives, including tactile feedback For that, NSF NRT is a grant to build a new graduate program for "person-centered smart cities and smart living" .so that's kind of where we're at right now. We invited HU to be a partner in the NRT which they accepted so it's an opportunity for Hiroshima University to engage with students from ASU-side that are admitted into this new program, '' said McDaniel.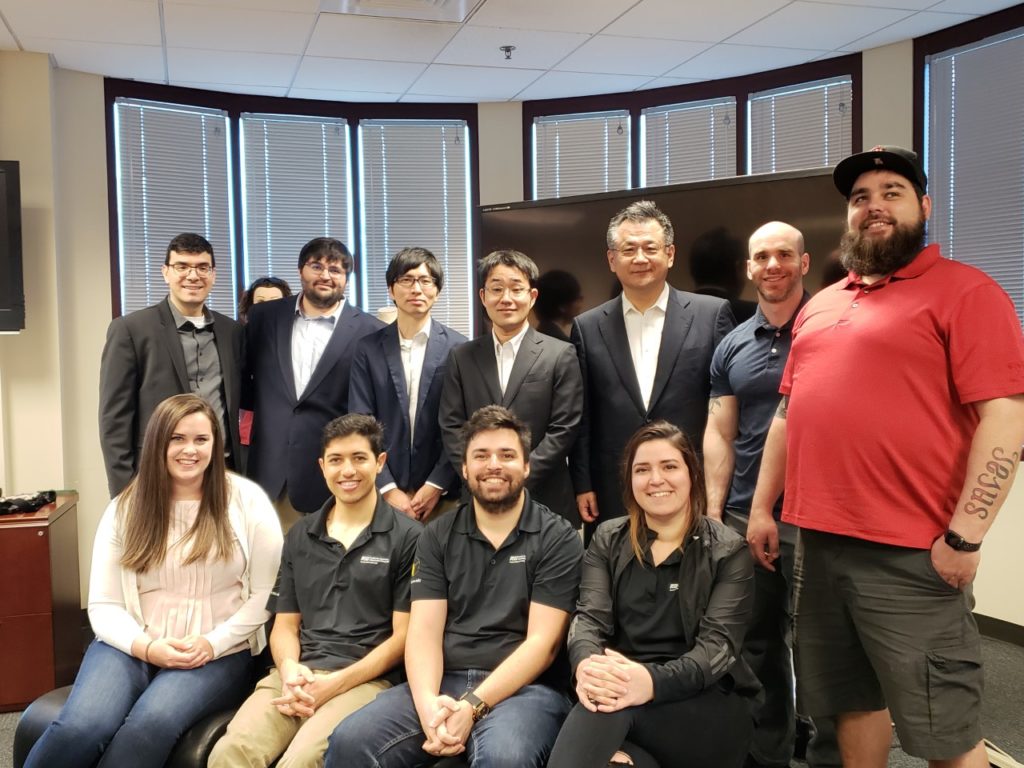 Members from Hiroshima University Hospital visited Arizona State University in 2018. Credit: Ding Ding Zheng
"We plan to send students to ASU and we would like them to stay for at least 6 months to one year. The NEDO project does not cover this exchange so hopefully, we can get some funding," said Kurita.
Originally written by Emma Buchet