On July 5, 2016, the signing ceremony was conducted between Prof. Mikihisa Takano, Dean of School of Pharmaceutical Sciences, Hiroshima University and Dr. Paiboon Daosodsai, Dean of Faculty of Pharmaceutical Sciences, Khon Kaen University.
Both institutions have already concluded the first agreement on 2007. At this time, the agreement is renewed by both new deans.
At the Signing Ceremony held at Kasumi Campus, Hiroshima University, the Agreement was officially signed by Dean Mikihisa Takano and Dean Paiboon Daosodsai in attendance of Vice-Deans, Assistant Deans, Associate Deans and staff of both institutions. They all agreed upon promoting future collaborative activities such as student and staff exchange and joint research / education through discussions and opinion exchanges.
Khon Kaen University is a national university established in Khon Kaen, Thailand in 1964. It has grown to be one of the largest universities with approximately 40,000 students in Thailand. Faculty of Pharmaceutical Sciences, Khon Kaen University is a long-established since 1980. The faculty has had good relationship with our School of Pharmaceutical Sciences for a long term. One of the Khon Kaen delegation members, Associate Dean Denpong Patanasethanont is an Alumnus of our Programs for Pharmaceutical Sciences, Graduate School of Biomedical Sciences.
The Agreement will facilitate the mutual relationship with joint student / staff exchange between the two institutions.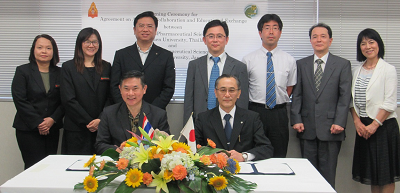 【Photo explanation】 Dean Paiboon Daosodsai (frontrow, left), Dean Mikihisa Takano (frontrow, right), Dr. Denpong Patanasethanont (back row, third from the left)
【Inquiries】
Kasumi International Office, Kasumi Campus Management Support Office, Hiroshima University
E-mail kasumi-kokusai(AT)office.hiroshima-u.ac.jp (Please replace (AT) with @)