Experimental Station of Medicinal Medical Plants
Outline
As one of the educational research facilities for an affiliated institution of School of Pharmaceutical Sciences, Experimental Station of Medicinal Medical Plants is located on the east side of School of Pharmaceutical Sciences Research Building at Kasumi Campus. The Station where various medicinal plants are cultivated and exhibited, aims to promote pharmaceutical education and academic research.
In the specimen garden where approximately 160 species of plant seeds are stored, medicinal plants including different herbs are grown and displayed, while in the greenhouse, tropical and subtropical plants are grown and displayed.
Moreover, approximately 400 crude drug samples are preserved on shelves (6th floor of the pharmaceutical research building).
Position
Name
Director
Professor Hiroyuki Kamiya
Vice-Director
Associate Professor
Sachiko Yamano
Facility
Area
Detail
Herbarium
1,130 ㎡
158 species:
84 plant species
74 tree species
Cultivated land
660 ㎡
Greenhouse
130 ㎡
Administration Office
180 ㎡
Seminar room (24 seats)
<History>
1971 Herb garden (tentative name)was established.
1980 Experimental Station of Medicinal Plants was established as an affiliated institution
of Faculty of Medicine.
2006 Experimental Station of Medicinal Plants was shifted to Faculty of Pharmaceutical
Sciences from Faculty of Medicine.
Contribution to Education
We cultivate a wide variety of medicinal plants so that students are able to obtain a basic knowledge on "drugs come from natural resources", which is one of the goals to be achieved for Model Core Curriculum of Pharmaceutical Education.
Second year students are given lectures on "Pharmacognosy" focusing on crude drugs used for Kampo prescription (Japanese traditional medicine). Aiming to expand the knowledge taught from the second year, third year students conduct "Experiments of Pharmacognosy" at early summer that they dig up roots of the plants cultured in the Station and observe their morphology.
Besides above, we offer students practical trainings related to Kampo prescription including identification of prescription drugs. Moreover, our Station is a recognized facility to provide training courses for The Japanese Society of Pharmacognosy and Japan Pharmacists Education Center. We enforce the practical trainings eligible to take an examination for "a qualified pharmacist for Chinese herbal medicine and natural drugs" that is held in spring and fall every year.
Experimental Station of Medicinal Plants, Hiroshima University contributes not only to improve student's education in pharmacy but also to support postgraduate and lifelong education for pharmacists.
【Morphological observation : Paeonia lactiflora (garden peony)】
Along with Angelica actiloba, Paenia lactiflora is a natural drug commonly used for gynecological diseases. Its flowers are very similar to those of Paenia suffruticosa (tree peony); see the picture on the left. Moreover, because pieces of the root are used Kampo prescription, it is difficult to tell a whole crude drug; see the picture in the middle. Our Station allows students to distinguish the original form of the plant by digging it up from its root that deepens their understanding of herbal medicine; see the picture on the right.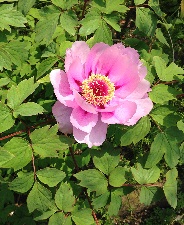 Flowers of Paeonia lactiflora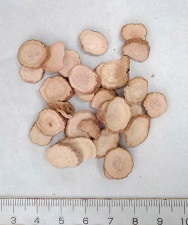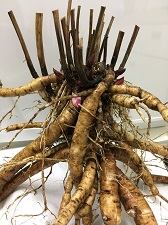 Research
At the Experimental Station of Medicinal Plants, we carry out extensive pharmacognosy research activities through analyzing extracted components from various species of medicinal plants grown in the Station.
For example, the substances of medicinal plants from the same species may vary with several conditions including geological region, nutrients contents in soil, and environment. The study to classify the harvested plants is conducted based on plant taxonomy that can be used for agricultural purposes: cultivation of selected seeds containing more of pharmaceutical substances.
Nearly 80% of crude drugs are imported from China, but it is said the amount of Chinese crude drugs has been restricted due to past overharvesting. Therefore, it has become an increased demand for cultivation of herbal plants in Japan.
Responding to this situation, we have been engaged in a cylindrical cultivation research as a member of Medicinal Plant Cultivation Study Group.
【Research example: Cylindrical cultivation】
Licorice is a very important crude drug used in approximately 70% for herbal medicine (Kampo). Japan imports the great majority of licorice from China. However, considering the situation mentioned above, it has been a significant issue to secure stable supplies of medicinal drugs such as licorice in Japan.
Advantages of the cylindrical cultivation for licorice are as follows:
To keep the adequate soil condition by controlling the moisture inside the cylinder despite a hot and humid weather during the rainy season in Japan
To cultivate smoothly by inhibiting the stolon growth in the cylinder
We are now working on the licorice cultivation system to practical use by changing soil components.
Take a look at some plants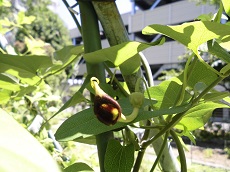 Aristolochia debilis
Aristolochia feeder, a swallowtail butterfly visits our garden every year.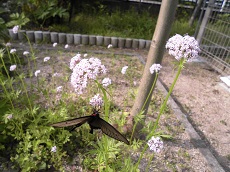 Valeriana fauriei
A swallowtail butterfly perching on the other plant, Valeriana fauriei on the way to Aristolochia debilis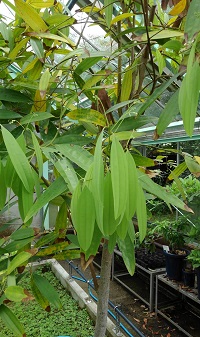 Cinnamomum cassia
Cinnamomum cassia, a family of Lauraceae, exhibited in the greenhouse that contains an essential oil constituent, has long been highly valued aromatic purpose as well as medical use.
Its bark has more intense aroma than its leaves.
Also, it has been widely known as one of herb drugs constituting Kakkonto (Pueraria Decoction).
Visit us
Opening hours: Monday-Friday, 10:00 to 16:00
※If you wish to visit our garden, please contact us by phone or
email below at least one week in advance.
【Contact information】
●Tel: 082-257-5285 (Sachiko Yamano)
●Email: ssugimot(AT)hiroshima-u.ac.jp
※(AT) should be replaced by @.
If you apply by email, you shall download an application form
below, fill in it and send it with your email.
Vice-Director:Associate Professor Sachiko Yamano
We have welcomed many visitors regardless of age, profession and nationality to our station to observe and enjoy various herbal plants.
We look forward to having you visit here.