Educational Philosophy
School of Pharmaceutical Sciences aims to cultivate students who can become professionals equipped with scientific thinking and creativity by acquiring a rich sense of humanity and extensive knowledge critical to promote human health and welfare, and basic knowledge, skills and attitudes necessary to engage in pharmaceutical professions.
Admission Policy
We seek the following students:
Those who possess a broad range of basic scholastic knowledge at high-school, especially having high scores in math・English・science
Those who actively attempt to learn chemistry or life sciences and to contribute to development in pharmaceutical research as well as quality improvement in medicine after fully understanding people who need medication and medicine
Those who aim to be pharmaceutical specialists such as researchers・technicians・developers of next generation medicine・providers of advanced medical information・experts in environment / health who can play active roles in the world. For this purpose, it will be needed to proceed to the graduate school to pursue further studies on the foremost pharmaceutical sciences. Or those who aim to be highly-specialized pharmacists with advanced knowledge / techniques capable of discussing from the scientific point of view in a medical team.
School of Pharmaceutical Sciences focuses on cultivating highly specialized pharmacists and researchers in drug discovery and development with a strong scientific mind through cutting edge curriculum in a small group setting.
Program of Pharmaceutical Sciences (6-year academic program) aims at nurturing pharmacists equipped with specialized knowledge and general intelligence, while Program of Medicinal Sciences (4-year academic program) aims at nurturing researchers in drug discovery and development equipped with a global perspective. Followed by offering specialized education from the latter half of the 1st year, we put an emphasis on small group learning from the latter half of the 3rd year which 5 students (maximum) are assigned to each laboratory. Furthermore, we make effort to provide interprofessional education in collaboration with School of Medicine and School of Dentistry, for the team healthcare in future.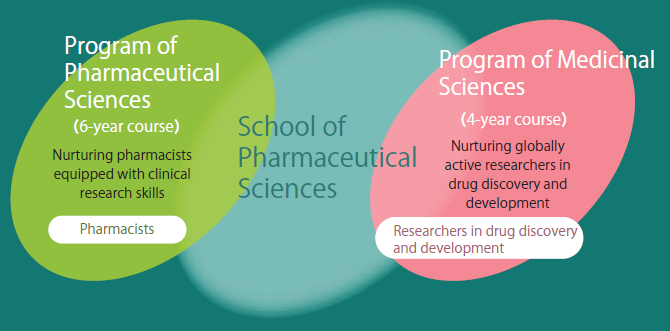 Program of Pharmaceutical Sciences
Cultivation of the personnel equipped with a strong inquiring mind in research through acquiring chemical/medical knowledge on pharmaceutical products
Program of Pharmaceutical Sciences nurtures pharmacists and researchers equipped with highly specialized knowledge and skills. Thereby, we focus on training students to have accurate chemical/medical knowledge on medical/pharmaceutical products in stages, while offering fundamental pharmaceutical education, which will further promote creative thinking skills necessary for a pharmacist, the ability to actively find and solve new problems in clinical pharmacotherapy, and a strong interest in science. Thus, our students will be pharmacists who can express their opinions from the scientific point of view, and have a sense of responsibility for the proper use of drugs, as a member of medical team. Our 6-year curriculum allows us to develop human resources capable of contributing to medical practice and supporting the health of human beings.
Program of Medicinal Sciences
Cultivation of the personnel who actively engage in pharmaceutical research based on accurate/balanced knowledge about medical/pharmaceutical products.
Program of Medicinal Sciences nurtures pharmaceutical professionals such as drug developers, drug engineers and health care developers. Thereby, we strive to train students with an inquiring scientific ability by early experience on cutting edge research, while offering basic pharmacy, which would help them demonstrate their abilities as researchers or technologists at companies or public institutions related to pharmacy, chemistry and food after graduation. Moreover, students can go on to graduate programs that further expand their knowledge and skills in specialized research.