Goals of students in Program of Medicinal Sciences (4-year academic course) are:
Acquiring the ability to cope with new problems through creative thinking skills
Acquiring a wide range of knowledge with spirit of scientific inquiry and strong motivation to learn
Acquiring the ability as international medical specialists such as pharmaceutical researchers・technicians・developers of next generation medicine・providers of advanced medical information・experts in environment / health
Acquiring advanced pharmaceutical and medical knowledge / skills leading next generation life sciences and medical care. For this purpose, it will be needed to proceed to the graduate school
Cultivation of pharmaceutical researchers and technicians capable of taking active roles at the international level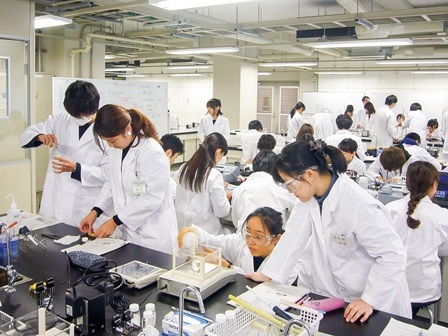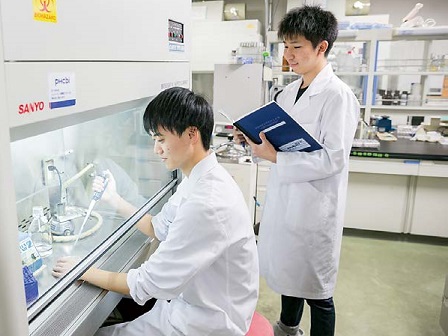 Program of Medicinal Sciences strives to help students develop strong scientific abilities by providing the environment to learn advanced medicinal sciences at the early stage; 3rd-4th year, while offering basics of pharmacy at 1st-2nd year. In pursuit of contributing to quality improvement in healthcare and progress in pharmaceutical research, along with accurate chemical and medical information on pharmaceutical products, our 4-year curriculum allows students to acquire the abilities to become various pharmaceutical specialists such as globally active drug developers and engineers, next-generation pharmacotherapy developers, advanced medical information providers, and environment/hygiene technologists. Those who graduate from our program will make a contribution to the society as researchers/engineers at companies or public institutions related to pharmacy, chemistry and food. Moreover, we encourage students to proceed to graduate programs at Division of Integrated Health Sciences, Graduate School of Biomedical and Health Sciences; a 2-year master's course or a 3-year Ph.D. course that enables them to obtain a higher level of occupational skills/knowledge, and to finally acquire the doctoral degree.
Available qualifications and licenses
1st Class Teaching Certification of High School Teachers (Science)