Cultivate the personnel who possess a rich sense of humanity necessary to become practitioners of medicine, health and welfare equipped with broad knowledge and skills
Program of Medicine aims to foster medical practitioners while Program of Health Sciences aims to foster nurses, physical therapists and occupational therapists. Each Program offers the educational course which enables students to efficiently acquire knowledge and skills, as well as Inter-Professional Education (IPE) and early exposure joint practice with 3 Schools: Medicine, Dentistry and Pharmaceutical Sciences to nurture medical specialists who can take an active role in a medical team.

※1 Learning method utilizing small-groups that students find problems and solution measures on given subjects in group discussions
※2 Obtaining necessary qualities as medical doctors; attitudes, ethics, communication skills, team approached medicine and medical techniques
※3 Tests to evaluate attitudes / skills / knowledge are conducted for students enrolled in medical uniiversities / schools of medicine in universities in Japan before starting clinical practice.
※4 Participation -based clinical trials : students not only observe clinical practices but also pursue to gain practical abilities through joining the medical care as a team member.
※5 Examination to assess students' performance in clinical competency required for graduation, and their clinical knowledge and skills necessary to begin a postgraduate clinical training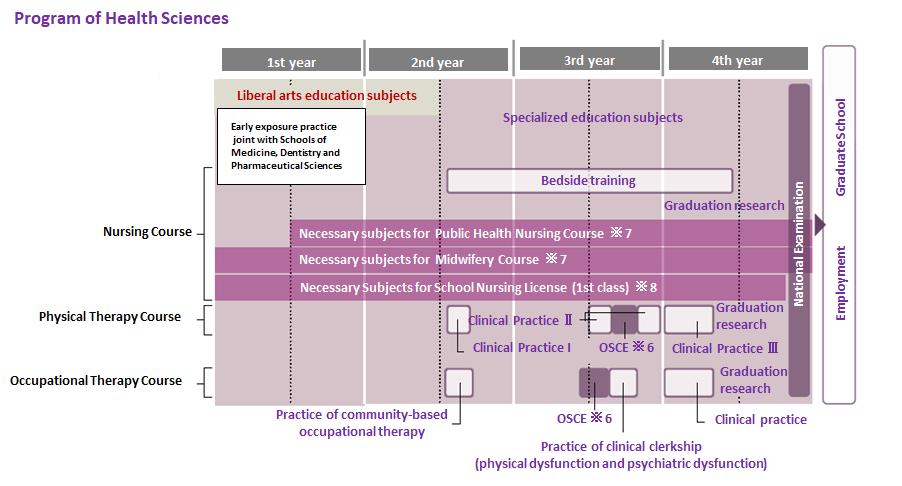 ※6 Performance-based testing used to measure candidates' clinical competence by knowledge, skills and attitudes
※7 Students who intend to take the National Examination for Public Health Nurse or Registerd Midwives need to take necessary subjects provided by each couse voluntarily.
Clinical practices have student capacities in the Public Health Nursing Course and the Midwifery Course.
※8 Students desiring to acquire a School Nurse License (1st class) must take necessary subjects for the license acquisition including required subjects of the Nursing Course registration standard.
Please see below for Program details
Please see below for the original website