Nursing Course
This 4-year program offers students the eligibility to take the National Examination for Nurse Registration. Moreover, as optional qualifications, they can also acquire the eligibility to take the National Examination for Public Health Nurse or Registered Midwives, and the School Nurse License (1st class).
Students learn humanitarian procedures and attitudes; scientific ways of thinking, and attitudes to protect human rights. After graduation, students are provided with opportunities to work in various occupational centres such as clinical laboratories, administrative departments, educational organizations, research institutes, home visit nursing stations or companies.
The 1st year students learn the significance of humanity through liberal arts education. The 2nd year students acquire knowledge on specialized areas; clinical nursing, community nursing and health sciences. On the job training conducted throughout mainly 3rd year to 4th year provide students with excellent benefits for supporting and caring for people at various nursing institutes.
Available qualifications and licenses
Nursing Course: Eligibility to take the National Examination for Nurse Registration
※If further necessary credits are gained, eligibilities to take the National Examination for Public Health Nurses and the National Examination for Midwives, and School Nurse License (1st class).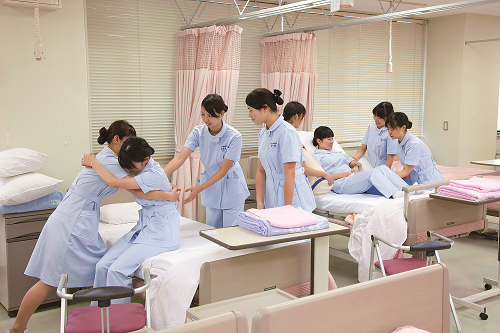 Physical Therapy Course
Physical therapists help patients restore movement, neurological, metabolic, circulatory, or other internal disorders by focusing on therapeutic exercise. Moreover, in Japan, with the world's longest life expectancy, physical therapy contributes to a national health maintenance scheme and the promotion and creation of humanitarian values.
The Physical Therapy Course of Hiroshima University is a special program based on a 4-year course system to cultivate physical therapists established in April 1992 for the first time in Japanese universities. Under highly-qualified academic standards aiming to the foundation of "Physical therapy as science", many students enrolled in the course have been successful in education and research at the graduate school as well as various institutes relevant to health science, medicine and welfare.
Available qualifications and licenses
Eligibility to take the National Examination for Physical Therapists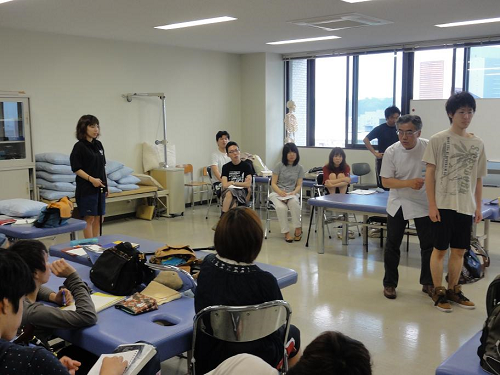 Occupational Therapy Course
The occupational therapy is a profound science using patients' daily activities as medically therapeutic approaches so that the patients, i.e., people with physical or mental disabilities in normal daily life or those who have a high probability of being disadvantaged in society can maintain their skills and independence. Occupational therapy is used to aid and assist various people such as in-patients or out-patients in hospitals, people staying in welfare facilities, children or elderly people cared for at home. The demand for this type of therapy is growing in society which is shifting from disease-centered care to the medical treatment, health science, and welfare focused on patients' lifestyles.
As a basic approach, students learn the effects of the body and mind, the function and meaning of occupations, and the mutual relation between different occupations and environments along with basic research methods and management skills for occupational therapy. In regard to clinical approaches, students learn which solution, what kind of assistance and teaching methods should be adopted for patients depending on their disease and/or disorder; mental or physical handicap; brain dysfunctions; developmental disorders; and geriatric disorders.
Available qualifications and licenses
Eligibility to take the National Examination for Occupational Therapists