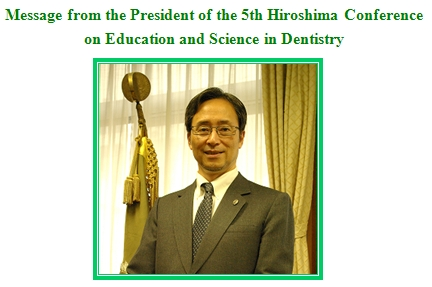 On behalf of organizing committee members of Hiroshima Conference and Hiroshima University Faculty of Dentistry, it is my great honor and pleasure of extending to you an invitation to participate in 5th Hiroshima Conference on Education and Science in Dentistry with the theme, "Global Network Initiative for BioDental Research and Education" to be held in Hiroshima, Japan on October 12 and 13, 2013.
The 1st Hiroshima Conference took place in January 2006 to mark the 30th anniversary celebration of Hiroshima University Faculty of Dentistry (founded in 1965). Since the 1st meeting, Hiroshima Conference has been held every other year aiming for the establishment of 「International educational, research base in the fields of dental medicine and oral health science in Asia」. Thanks to the deep understanding and active cooperation by closely related universities or institutions inside and outside Japan, Hiroshima Conference has become a well-recognized international meeting giving participants valuable opportunities to learn the latest dental science / education, to exchange new ideas and application experiences, and to build research or academic ties among participating institutions. Moreover, in response to global needs for future educational / research standardization and collaboration in dental medicine・oral health science, 5th Hiroshima Conference consisting of informative special lectures and sessions with specific themes will offer you different perspectives comparing educational/scientific methods by prominent lecturers, oral presenters, participants from all over the world.
I am really looking forward to having you join us and sharing a purposeful and fruitful time together here in Hiroshima in October, 2013.
Best regards,
Professor Motoyuki Sugai
President of 5th Hiroshima Conference on education and science in dentistry
Dean, Faculty of Dentistry, Hiroshima University