The School of Dentistry at Hiroshima University develops dental professionals capable of running practices that are holistic and patient-centered. Our graduates become dental scientists and life scientists with a deep understanding of the human body.
Recent advances in dental medicine posit that oral diseases have a big influence on general health. The School of Dentistry applies the theories of "BioDental Education" to enable its students to conduct their dental practice in a manner that focuses on the patient's overall well-being through a care team organized by various health professionals. The Program of Dentistry aims to develop students' faculties as clinical dentists, dental educators, and researchers. The Program of Oral Health Sciences aims to foster dental hygienists and dental technicians. In addition to specialized core subjects, we provide various subjects for both Dental and Oral Health students to learn together for their future engagement in a medical team.
We offer undergraduate courses for all dental professions: dental practitioners, dental hygienists, and dental technicians. Taking advantage of the wide range of our courses, we have launched the BioDental Education module, which helps our students go beyond the framework of their own specialty to understand each other's areas of expertise. This program aims to cultivate professionals who will lead the next generation of holistic dental health care that is oriented toward the patient.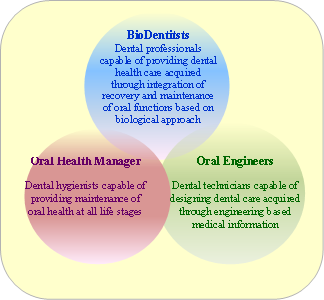 Educational System of School of Dentistry
Four Fascinating Characteristics of Hiroshima University, School of Dentistry
BioDental Education
BioDentistry is a word invented by the School of Dentistry at Hiroshima University. The word integrates "Biology" and "Dentistry" and connotes "dental medicine based on biology."
As dental professionals, we need to examine not only decayed teeth and periodontal diseases but also a patient's systemic condition. Dental diseases and systematic health are, in fact, closely linked.
However, it is difficult to identify the relationship between oral and systemic conditions in diagnosis. Merely observing symptoms of illnesses from a macro point of view does not help the dental professional gain an understanding of the complete state of a person's health. Students must understand the precise mechanisms and functions of cells, molecules, and genes, so that they can identify various diseases derived from failures of these bodily components.
In conventional programs, students were tasked with learning basic dental medicine and clinical dental science separately. This made it difficult for them to link the two areas of study. BioDental Education helps students describe the connections between basic dental science and clinical dental science through course work that is founded on practical training.
Program of Dentistry: Double Program
Dental students can select one module from either the "Course for Frontier Dental Science" or the "Course for Clinical Dental Science" in their 4th year. This course system is unique to our dental school.
The "Course for Frontier Dental Science" provides students with basic knowledge and skills necessary for researchers. This enables students to work on a specific topic in their basic science departments. The "Course for Clinical Dental Science" provides students with advanced clinical skills in dentistry.
The course is intended to develop the ability of each student by direct individual instruction. However, we do not just aim to cultivate dentists who are specialized in only clinical techniques. We believe that learning about the frontiers of current research on their subject will give them relevant knowledge that will help them further hone their clinical skills. The scientific expertise they gain will help them solve the clinical problems of their patients more effectively. The continuous effort to acquire basic scientific know-how along with clinical studies leads our students to become highly qualified dental professionals.
Program of Oral Health Sciences
The Program of Oral Health Sciences offers students the opportunity to conduct graduate research under the guidance of academic staff in three departments for the Course for Oral Science and three departments for the Course for Oral Engineering. 2nd year students select a supervisor that fits their research interest based on presentations from third year students in September. There are a wide range of specialized study fields in the program. The Course for Oral Science allows students to select research content from among topics such as dental hygiene, Yogo teacher (school teacher), development of oral cavity scanner, swallowing and mastication, oral cavity function, dental caries prevention, clinical research overview, and so on. The Course for Oral Engineering allows students to select research content from areas such as the production of anatomical models, zirconia bonding, mouth guard materials, denture cleaners, CAD/CAM techniques, production of operation supporting models, substances to prevent caries derived from lactic acid bacteria, immobilized antibacterial agents, and dental statistics. Moreover, we invite students and academic staff from the Department of Health Sciences, the Faculty of Human Culture and Science, the Prefectural University of Hiroshima to attend oral presentations of graduation research projects from both the Course for Oral Science and the Course for Oral Engineering. These presentations are held in December. Our students and staff members are also invited to participate in oral presentations in a seminar with the Prefectural University of Hiroshima held in January. In both cases, students are motivated to actively discuss the details of common research interests. Parallel to the graduate research, our students go through the difficult process of implementing their clinical learning while preparing for national examinations.
Internationalization
The School of Dentistry has established an "International Dental Course" which allows undergraduate students to interact with students from abroad, as well as with graduate students and young research scientists. The Program of Dentistry for undergraduate students, offer all its lectures in both Japanese and English. Students are accepted into the International Dental Course from designated sister schools. They may take classes with our students from the 2nd to the 5th grade, which corresponds to their own class in their home university. The enrollment of excellent and motivated international students in the same course promotes mutual understanding between different cultures and encourages a global thought process. This exposure has a very positive effect on our students.
We have signed agreements with overseas universities/institutions from several European countries, the US, and Asia. This gives our students and employees the opportunity to study abroad. There has been a significant increase in the number of students enrolled in the School of Dentistry of Hiroshima University who study abroad under scholarship programs during the spring or summer vacations. We also conduct an advanced English course meant especially for students who achieve TOEIC scores above a certain threshold so that we can prepare them for their studies abroad.
Please see below for Program details