Learn from a systemic perspective on knowledge and skills to protect oral health necessary for healthy human life
Oral professionals and "life scientists" who have a profound understanding of the human body
Following the recent advances in dental medicine that dental diseases have made a great impact on general health conditions, School of Dentistry focuses on developing the personnel who can conduct patient-centered comprehensive dental treatment through a care team organized by various health professionals, instead of conventional methods (drill and fill). Program of Dentistry aims to cultivate dental practitioners while Program of Oral Health Sciences aims to cultivate dental hygienists and dental technicians. Both programs provide students necessary education to become educators or researchers.
Students are given the opportunity to learn beyond the frames of programs or departments through offering undergraduate courses for all dental professions: dental practitioners, dental hygienists and dental technicians. Furthermore, dental students study together in common lectures and clinical practices with medical and pharmaceutical students, introducing a shared understanding of a team-based care to be engaged in the future.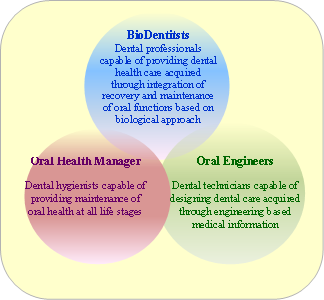 Educational System of School of Dentistry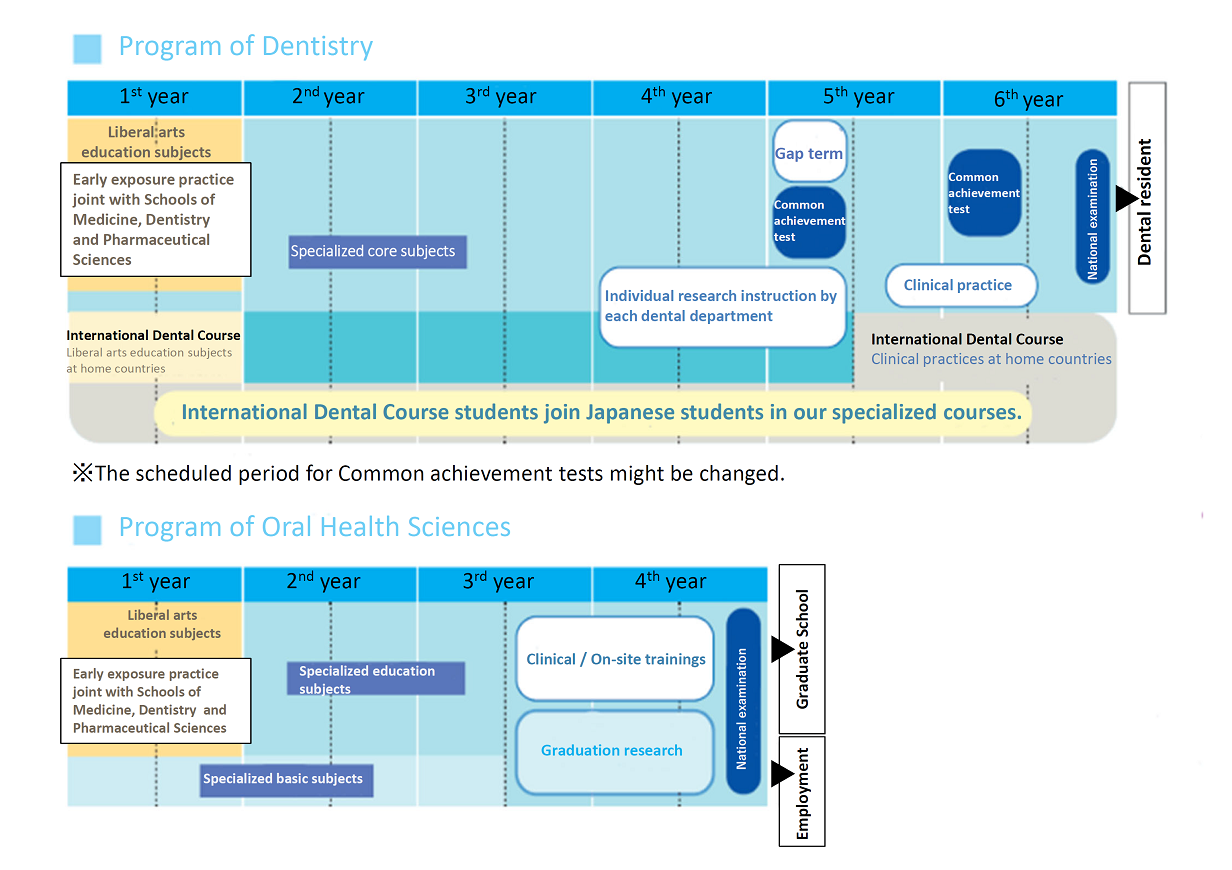 Three main components for dental education
BioDental Education
BioDentistry is the common educational basis for Program of Dentistry and Program of Oral Health Sciences. It is a word invented by School of Dentistry at Hiroshima University, that integrates "Biology" and "Dentistry" and connotes "dental medicine based on biology."
As dental professionals, they need to examine patients' systemic conditions as well as decayed teeth and periodontal diseases. Dental diseases and systematic health are, in fact, closely linked.
By not only observing the states occurring in living bodies from a macro point of view, but also linking them with dynamics at the cellular, molecular, and genetic levels, students will be able to identify the precise mechanisms and functions and various diseases caused by failures of the bodily components.
BioDental Education helps students describe the connections between basic dental science and clinical dental science through course work that is founded on practical trainings.
Interprofessional Education (IPE)
Hiroshima University Kasumi Campus consisted of 3 Schools; Medicine, Dentistry and Pharmaceutical Sciences, offers undergraduate courses to acquire 11 medical professions, unprecedented in Japan; School of Medicine; doctor, nurse, physical therapist, occupational therapist, school nurse, public health nurse and midwife: School of Dentistry; dentist, dental hygienist, dental technician, school nurse: School of Pharmaceutical Sciences; pharmacist.
Interprofessional Education (IPE) funded by the Ministry of Education, Culture, Sports, Science of Technology in 2017, has started in 2017. The IPE for the 1st year students, offers them medical ethics and triage for large-scale disaster. 5th year students in Programs of Medicine nad Dentistry, and 4th year students in Program of Health Sciences, and 3rd year students in Program of Oral Health Sciences, and 6th year students in Program of Pharmaceutical Sciences learn medical care for chronic diseases and long-term care in role- plays. IPE is a distinct pedagogical approach that enables students to learn professional and specialized knowledge, skills and attitudes in different health occupations.
International Education
School of Dentistry has established "International Dental Course", aiming to promote international exchanges, and to provide undergraduate students the opportunity to interact with overseas students, as well as graduate students and young research scientists. Program of Dentistry for undergraduate students, offers almost all its lectures in both Japanese and English, while Program of Oral health Sciences offers several lectures, using the two languages. The course enables International students selected from partner schools in Southeast Asian countries to take classes with Japanese students for their 2nd through 5th-year. Attendance of excellent and ambitious international students in the classes promotes international awareness and enhance mutual understanding.
School of Dentistry that has partner schools in many countries extending from Europe and the US to Asia, actively promotes international exchanges at undergraduate level. The number of undergraduate students who go abroad through a short-term program is increasing every year.
Please see below for Program details