Program of Dentistry aims to train students to be future dental practitioners, educators and researchers in dentistry.
In the first year, students take both general and specialized education curriculum, and they are provided research education from the first half of their third year, and finally, they start dental research practices in the fourth year. Those allocated in specific dental departments are given instructions on research works while enhancing their interest and understanding in life sciences, both can develop individual potential.
5th year students are mostly engaged in applied subjects and clinical practices. Gap term is also offered at the first half of the 5th year so that they are able to use their time to deepen their knowledge such as going abroad or engaging in research activities. Interprofessional education has been introduced in clinical practices, cultivating the personnel who can play a major role in the health care team. Furthermore, School of Dentistry has established International Dental Course in the program that is the only university to have a global course among dental universities in Japan. Many international students have been accepted through the IDC, a long-term study program and short-term exchange programs from dental schools of sister universities, creating an internationally opened learning environment where students can acquire excellent global perspectives by spending campus life with international students from various countries.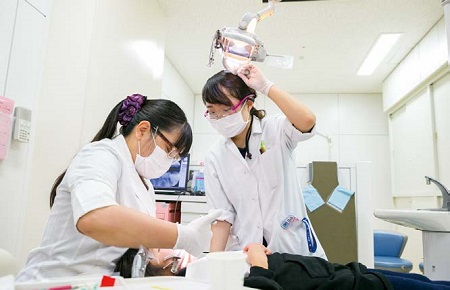 Available qualifications and licenses
National Examination for Dental Practitioners