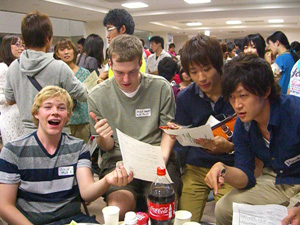 Students at the Welcome Party
Every year at Hiroshima University, 30 to 40 international students are welcomed from 70 universities in 25 different countries from around the world that have signed mutual international exchange agreements, while at the same time 30 students from this university are sent abroad.



This summer, 28 international students from 13 countries were accepted, and a welcome party was held for them on the evening of September 27, following a 2 day orientation.



About 150 people in total gathered to create the exciting exchange event, including 120 of the international students' support tutors and local students.



Most of the international students will take classes from half a year to a year, and we hope that through this they will not only learn a variety of things like Japanese language and culture, but also connect with students of the university and create a bond with Japan.
【Inquiries】

International Exchange Group,

Education and International Office,

Hiroshima University

E-mail:kokusai-ryugaku(AT)office.hiroshima-u.ac.jp

(*Please replace (AT) with @)