The Inaugural Meeting for the Hiroshima University Myanmar Alumni Association was held at a hotel in Yangon on March 9, 2014. Several guests of honor and the Executive and Vice President Dr. Tetsuji Okamoto, Professor Toshinori Okuda, Associate Professor Yoshi Takahashi and other guests, all together about 25 participants joined this meeting.
After the opening address which was given by the Executive and Vice President Dr. Okamoto, the guest of honor Mr. Toshio Yamamoto, Minister-Counsellor of Embassy of Japan in Myanmar gave a congratulatory speech. This year is the 60th anniversary of the establishment of diplomatic relations between Japan and Myanmar, and he said that he was happy to join this meeting organized as one of the commemorative events of the 60th Anniversary of the Establishment of Diplomatic Relations between Japan and Myanmar. Then, also Mr. Myint Wai, the President of the Myanmar Association of Japan Alumni (MAJA) offered his felicitations. He began by speaking of the first President of MAJA, Mr. U Thet Tun (deceased), who studied at old Hiroshima University, Hiroshima Higher Normal School as an international student from Southeast Asia, and then explained about the history of student exchange between Japan and Myanmar. To date, about 80 students from Myanmar have studied at HU.



Afterwards, the executives were elected, and Dr. Kyaw Kyaw Khaung (present President of the East Yangon University), who had earned a doctoral degree from Graduate School of Science of HU, took up the post of President. Then, the Executive and Vice President Dr. Okamoto briefed everyone about HU and all of the participants sang the university song. At the social gathering that subsequently took place, the participants deepened old friendships by talking about memories from the time they studied abroad and recent events.
With the establishment of this alumni association, we expect that further progress in exchanges between HU and Myanmar will continue.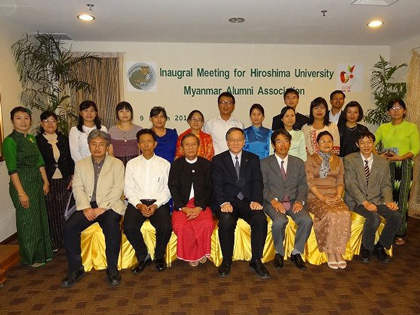 Memorial picture of the HU Myanmar Alumni Association: First row from left: Prof. Okuda, HU Myanmar Alumni Association President Kyaw Kyaw Khaung, MAJA President Myint Wai, Executive and Vice President Okamoto, and Minister-Counsellor Yamamoto


【Inquiries】

International Exchange Group,

Education and International Office (International Center),

Hiroshima University

TEL: 082-424-6042

E-mail: kokusai-kyoten(AT)office.hiroshima-u.ac.jp

(* Please replace (AT) with @)