On December 26th 2014, Hiroshima University held the Hiroshima University Myanmar Alumni Association Meeting in Yangon. The Association was established in March 2014 for former international students and researchers of HU currently active in Myanmar.They held its inaugural meeting as one of the commemorative events of the 60th Anniversary of the Establishment of Diplomatic Relations between Japan and Myanmar.



This time, Alumni Association Chairperson Kyaw Kyaw Khaung (President, East Yangon University) and other former international students came together for this meeting. HU was represented by Executive and Vice President Tetsuji Okamoto and Associate Professor Yoshi Takahashi from the Graduate School for International Development and Cooperation. There were 12 participants altogether. The meeting commenced with an announcement on the HU's present situation made by Executive and Vice President Okamoto, followed by the participants' self-introductions. Afterwards, a social gathering was held, and the graduates renewed old friendships by talking about memories from the time they studied abroad.



Prior to the Meeting, the HU staff visited the Myanmar Association of Japan Alumni (MAJA) and had a meeting with the MAJA Vice-President Myo Khin. The HU staff expressed their gratitude towards the former MAJA President Myint Wai, who attended the inaugural meeting held in March as a guest and presented a congratulatory address. There were also discussions about further cooperation with the HU alumni associations. The Secretary-General Thi Ha, from the HU Myanmar Alumni Association was also in attendance at the meeting.



HU established overseas alumni associations in order to create a network among alumni abroad. Meetings are held regularly, and HU expects to reinforce exchange among the alumni, and their connection with the University, to strengthen the human network.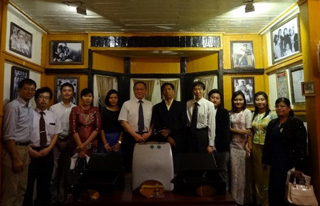 Commemorative picture of the participants of the Alumni Meeting (at the former office of General Aung San, the hero of Myanmar's independence)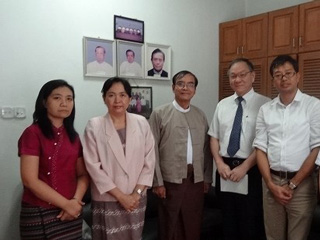 Discussion with MAJA (from the center to the right: MAJA Vice-President Myo Khin, HU Executive and Vice President Okamoto, HU Myanmar Alumni Association Secretary-General Thi Ha)
【Inquiries】

International Exchange Group,

Education and International Office (International Center),

Hiroshima University

TEL: 082-424-6042

E-mail: kokusai-kyoten(AT)office.hiroshima-u.ac.jp

(※Please replace (AT) with @.)