On January 13th 2015, Hiroshima University held the Hiroshima University-Northern Vietnam Alumni Association Meeting in Hanoi.



The Alumni Association consists of former international students and researchers of HU currently active in Hanoi and other cities in Northern Vietnam. It was established in March 2013 with regular meetings taking place over the years. This time, alumni association chairperson Do Hoang Ngan (Lecturer, University of Languages and International Studies, Vietnam National University, Hanoi) and other former international and Japanese students presently working at universities or other educational institutes, business enterprises, or international organizations came together for this meeting. Hiroshima University was represented by President Toshimasa Asahara and Vice President Toshiyuki Sato (International/Fund). Additional HU faculty members also joined making 23 participants altogether.



The meeting began with a welcome address delivered by the alumni association chairperson Do Hoang Ngan. Following this, President Asahara gave an address, saying that he wished alumni to be proud of their alma mater, which has been selected by MEXT for the "Top Global University Project" as one of Japan's top 13 universities, providing a world-class research and education. He also conveyed his wishes to strengthen the network among the alumni, emphasizing the importance of their ties with the university. After the introduction of the association organizers, the alumni association announced they would like to donate a membership list of their association to HU.



With the party in full swing, our oldest alumnus - Mr. Le Minh Duc - introduced himself, followed by other members' self-introductions. They renewed old friendships, engaging in various conversations including; the increasing activity in international exchange with Vietnam, the old days at Hiroshima University, and news of their former teachers. At the end, they took a group photo and exchanged commemorative gifts. Everybody pledged a reunion and the party ended successfully.



Hiroshima University established overseas alumni associations in order to create a network among alumni abroad. Meetings are held periodically, and HU expects to reinforce exchange among alumni, their connection with the University and to strengthen the human network in general.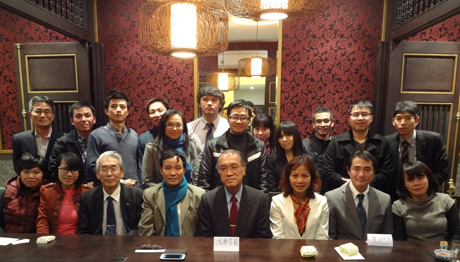 Commemorative picture of the participants of the Alumni Meeting


【Inquiries】

International Exchange Group,

Education and International Office (International Center),

Hiroshima University

TEL: 082-424-6890

E-mail: kokusai-group(AT)office.hiroshima-u.ac.jp

(※Please replace (AT) with @.)