Hiroshima University (HU) signed an Academic Exchange Agreement with the Federal University of Sao Paulo (UNIFESP) on November 11, 2015. Before this, HU and UNIFESP have held academic exchanges in the orthopedics field. Both universities decided to sign this agreement to promote further exchanges at the university level. Signatures to the agreement were exchanged between UNIFESP President Soraya Soubhi Smaili and HU Executive and Vice President Toshiyuki Sato, on behalf of HU President Mitsuo Ochi.



On November 10, the HU delegation visited their partner institution, the University of Sao Paulo (USP) Faculty of Humanities. Professor Toshiyuki Sato presented special lectures on "Chinese Literature and Japanese Literature" and "Sinology Studies in Japan" to an audience of about 50 students majoring in Japanese studies and Sinology studies at USP. During the lectures, Professor Sato talked about the influence of Chinese characters and Chinese poetry on Japanese literature. He also explained positivist work, which is one of the features of Sinology studies in Japan, by giving case examples from his own research. Students listened to the lectures with enthusiasm, actively asking questions about the research during the question and answer session.



After the lectures, the HU delegation made a courtesy call on the Associate Director for National Cooperation of USP Professor Laura Izarra. HU has been accepting USP law students for the Summer Program for Peace and Law, which is held in conjunction with the Peace Memorial Ceremony, on August 6 every year. Also, three HU students began a short-term study at USP from August last year with the help of scholarships from the same university. Professor Sato expressed gratitude for the universities' cooperative effort to hold these academic exchanges, also making suggestions as to how to continue promoting such exchanges between the universities in the future. At the courtesy call, Professor Sato presented a letter of gratitude to USP Faculty of Law Professor Masato Ninomiya, visiting professor of HU, in recognition of his contributions to the promotion of academic exchange activities between both universities.



On November 9, they visited the Centro Cultural Hiroshima do Brasil (Brazil Hiroshima Bunka Center) where the Hiroshima University Brazil Center is located. Professor Sato met with the newly appointed president Mr. Yasuyuki Hirasaki and discussed the future cooperation of both institutions.



It is hoped with the signing of the agreement with UNIFESP, and the reinforcement of exchange activities with USP, that the development of collaborative research and other academic exchanges between HU and Brazil will flourish.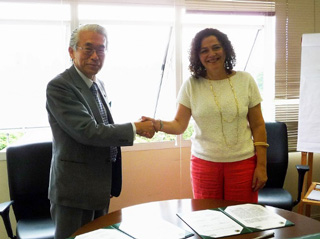 UNIFESP President Soraya Soubhi Smaili and HU Executive and Vice President Toshiyuki Sato signing the agreement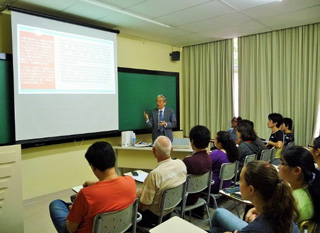 Special lecture by HU Executive and Vice President Toshiyuki Sato in the Faculty of Humanities at USP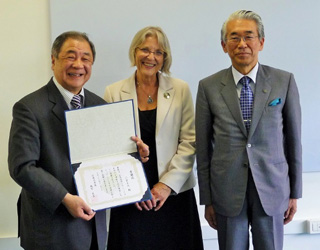 From left: USP Faculty of Law Professor Masato Ninomiya showing off his Letter of Gratitude, Associate Director for National Cooperation of USP Professor Laura Izarra, and HU Executive and Vice President Toshiyuki Sato
【Inquiries】

International Exchange Group,

Education and International Office (International Center),

Hiroshima University

TEL: 082-424-6042

E-mail: kokusai-kyoten(AT)office.hiroshima-u.ac.jp

(※Please replace (AT) with @.)