On May 27, 2017, Hiroshima University participated in the May Festival (Satsuki Matsuri) held at the Faculty of Japanese Studies of the University of Social Sciences and Humanities, Vietnam National University, in Ho Chi Minh City (USSH).
In order to promote further educational and academic exchanges with Vietnam, Hiroshima University established the HU Vietnam Centre on USSH's campus in 2010 and is active in helping to support the creation and conduction of the May Festival each year.
At the opening ceremony this year, organizer of the May Festival and Dean of the Faculty of Japanese Studies, Dr. Nguyen Tien Luc (Chairperson of the HU Vietnam Alumni Association), gave an overview of the various events of the day. Following him, Dr. Vo Van Sen, President of USSH and the sponsor's representative, gave a speech.
After that, there was a talk on what one should do in order to be accepted into the Japanese companies, followed by the award ceremony for the "Understanding Japanese Culture" (an essay contest). From the afternoon onwards, the students held songs and dance performance, displaying a variety of styles and skills as a testament to their commitment and hard work.
During the lunch hour, exhibition stands presented various aspects of Japanese culture, including studying in Japan, of which our staff introduced Hiroshima University and its overseas study programs. As a fun way to experience Japanese culture, green tea tasting and origami paper folding were offered for those interested. The students who visited the booth created out of origami such things as a lotus, the national flower of Vietnam, and a bookmark.
Each year, Hiroshima University sends about 20-30 first year undergraduate students to USSH through the START Program, a two week study program. The students participate in lectures taught by the local professors and actively promote exchange between the two schools through building friendships with the local students. Through Hiroshima University's yearly participation in the May Festival, and through the success of the START Program, it is hoped that academic exchange and collaboration between the two universities will be further promoted.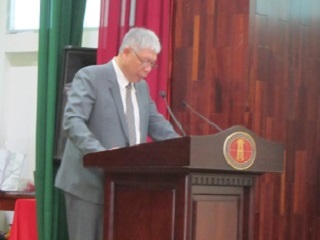 Dr. Nguyen Tien Luc, Dean of the USSH Faculty of Japanese Studies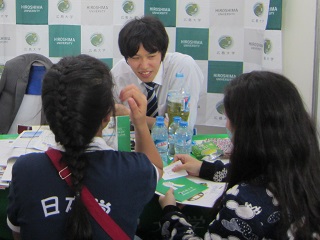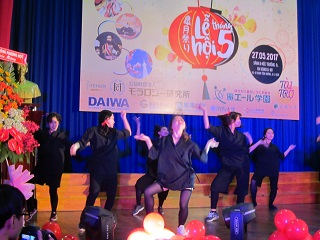 Song and dance performance held by students
[Inquiries]
International Exchange Group, Hiroshima University
TEL: 082-424-4575