On October 31st in the Student Plaza, Hiroshima University held a study abroad experience presentation session and an exchange meeting.
This session gives students who intend to apply for HU's various overseas study programs the opportunity to obtain study abroad information. This event, along with the study abroad information session held at the same time, attracted a total of 59 participating students interested in overseas studies.
On this day, 7 students who took part in one of the following HU overseas study programs participated in this event: the HUSA (Hiroshima University Study Abroad) Program, the AIMS-HU Program, and the Tobitate! Ryugaku JAPAN Program.
In the first half of the event, 4 former exchange students made a presentation on their experiences. These presentations centered on the useful information for audience who wish to study abroad such as their motivation for studying abroad, the program outlines, and how they wish to use their overseas experience for their futures. One of the students who had taken part in the AIMS-HU Program recounted their experience: "I was able to have a lot of precious experiences such as exchange with local students and company visits, etc. I made friends in Thailand, and still get in touch with them." Another student, who went to the University of Minnesota (United States) through the HUSA Program looked back on their experience saying: "I experienced not only lectures at university but also volunteer activities in elementary and language schools. Through such experiences, I was able to apply what I have learned so far into practice".
In the second half of the event, the participants were divided into small groups and enjoyed free talk where the former exchange students answered the participants' questions and gave advice to them on preparation for study abroad. Moreover, the former exchange students handed out self-analysis worksheet to the participants and accepted questions from them on how to write a study abroad plan.
The participants expressed their thoughts saying: "I was a little worried about studying abroad before. But today, I listened to detailed information about overseas study programs and now I can't wait to go abroad to study" or "I received unexpected questions from my seniors with study abroad experience. It was a good opportunity to think deeply about study abroad."
This session was organized and planned by the study abroad advisors (Japanese page) working at the International Exchange Group (student staff with study abroad experience) in cooperation with the faculty members of the said group. Making full use of the skills and experience they had developed as an advisor, they gave various useful information and advice to the participants.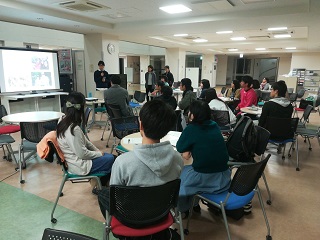 Presentation by AIMS-HU Program Participant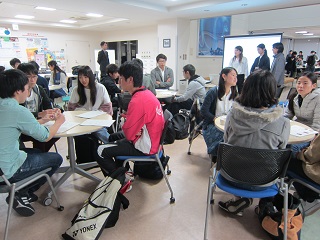 Exchange Meeting with Students with Overseas Study Experiences
[Inquiries]
International Exchange Group, Hiroshima University
Tel. 082-424-4346
E-mail: kokusai-ryugaku*office.hiroshima-u.ac.jp
(Please replace * with @.)