On March 3rd, 2018, the second Japanese Essay Speech Contest was held at the Vietnam National University, Ho Chi Minh City, University of Social Sciences & Humanities (USSH), where the Hiroshima University has its Vietnam Center.
This contest was co-hosted by Hiroshima University Vietnam Center, Komaru Transportation Foundation, and the Faculty of Japanese Studies, Vietnam National University, USSH. Its theme was "transportation." After the essay contest was announced to the universities within southern Vietnam, 55 students from 10 universities applied to take part, and 10 students were then selected to present their speech at the auditorium of USSH. At the venue, an audience of around 300 people, comprising Japanese language students and teachers were gathered.
At the beginning of the contest, Mr. Shigehiro Komaru (Senior Managing Director of Komaru Transportation Foundation, and Representative Director and President of Fukuyama Transporting Co., Ltd.) and Prof. Phan Thanh Dinh (Vice President of USSH), gave their opening addresses. In addition, HU President Mitsuo Ochi's video message was also shown. Following these addresses, Mr. Isao Iijima, Special Advisor to the Cabinet, Mr. Katsuro Nagai, Envoy of the Japanese Embassy in Vietnam, and Mr. Kazunori Hosoya, Deputy Consul General of Japan in HCM City, gave a speech in which they endorsed the event for promoting friendship between Japan and Vietnam, and fostering human resources who will encourage greater communication and collaboration between the two countries.
Following the opening addresses, 10 students made speeches in fluent Japanese, and after careful consideration DAO THI BICH from the Ho Chi Minh City Open University was awarded first prize.
At the end of the contest, Executive and Vice President Toshiyuki Sato made closing remarks, which the audience listened to in rapt attention until the end.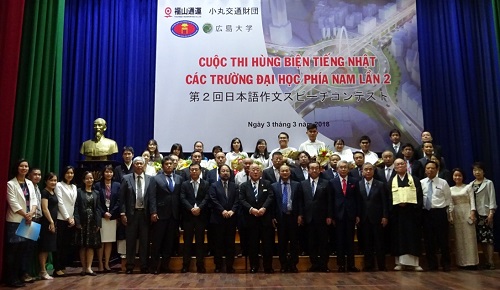 [Inquiries]
International Exchange Group, Hiroshima University
TEL: 082-424-6042